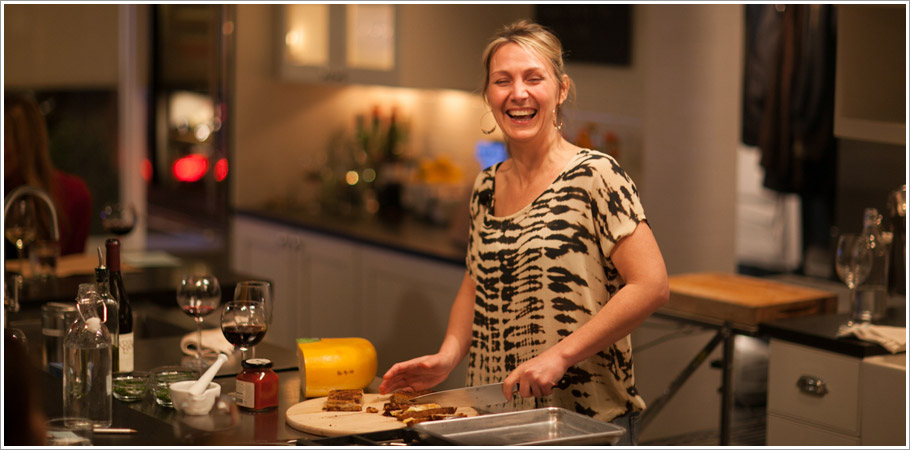 AIMEE OLEXY
Owner,
Talula's Table
,
Talula's Garden
and
Talula's Daily
One of the most recognized personalities in Philadelphia dining, Aimee Olexy truly understands what hospitality means. Talula's Garden, her inspired Washington Square collaboration with Stephen Starr, counts as more than just a restaurant opening – it also marks a return to the city for the worldly front-of-house veteran, blessed with the ability to send the "fine-dining elite into effusions of breathless adjectives," according to Philadelphia Magazine.Olexy grew up in West Chester, Pennsylvania, and her early food memories remain vivid as ever. "My parents were pretty hippie," she laughs. "Guitars and gardens and tie-dyes. We ate simply and naturally, picked blueberries and squash and hid in forsythia bushes for fun." As a teenager in the late '80s, she landed her very first restaurant job at Conshohocken's Spring Mill Café, in a jill-of-all- trades role that saw her waiting tables, sweeping floors and even doing a little cooking. It was here that Olexy first uncovered her love of making people happy as well as her fascination with cheese, one of many areas of expertise on display at Talula's Garden. "I loved pronouncing them and sniffing them and making the cheese plates, even then," she recalls.The early '90s saw Olexy earning her English Lit degree and MBA from St. Joseph's University (she's still a grade-A bookworm), overseeing a number of area restaurants before relocating to Colorado, managing Q's Restaurant in Boulder and Panzano in downtown Denver, among other stops. Next up was an educational journey in France, where Olexy attended l'Universitie du Vin in the Vacluse, forming the groundwork of her wine expertise and further fostering her love affair with fromage. "I can remember every cheese and where and how they were made," she says. "With food, I can remember everything."Olexy headed back to Philly in 1999, handling operations at Victory Brewing Company and at the Swann at the Four Seasons before embarking on her first stint with Starr, as GM of his Center City bistro Blue Angel. Olexy excelled so much here that she was promoted to Director of Restaurants, handling operations at Continental, Buddakan and Tangerine and opening Pod in 2000.
The year 2001 marked Olexy's true arrival onto the Philadelphia restaurant scene – that March, she and ex-husband Bryan Sikora debuted Django, the Society Hill restaurant that's still, to this day, the only BYOB eatery ever to earn a four-bell rating from Philadelphia Inquirer critic Craig LaBan, who wrote that Django "manages to communicate – without the usual public-relations pyrotechnics – the heart and polish that make a restaurant great."
"I knew Django was special immediately," Olexy says of the tiny 38- seat restaurant, where she was a constant front-of-house presence. She still remembers her first customer. "He was telling me how much he loved cheese, and I felt the glimmer of hope," the restaurateur recalls. "And he said he loved fish soup. I said, 'Come tomorrow.' He did, and we had it ready for him."
In 2005, to the shock of some, Olexy and Sikora decided to sell Django at the height of its popularity and relocate to Pennsylvania's bucolic Chester County, where in 2007 they opened Talula's Table. The Talula part is in honor of their daughter, Annalee Talula Rae. The "Table" part, meanwhile, refers to the gourmet-market-by- day's nightly 12-person BYOB tastings, so incredibly coveted that reservations have to be made a full calendar year in advance. Portfolio.com dubbed it "The Toughest Table in America." The New York Times praised the "handsome, deceptively complex and masterfully executed" food, likening the experience to a "spiritual retreat." The experience earned a spot on the 2010 "Saveur 100" list, which informed us that "the magic has to do with more than just the menu – it's the sense of community."
Talula's Garden, which Olexy opened in partnership with Starr in April 2011, aims to capture identical sentiments, albeit on an ambitious downtown scale. ZIP code notwithstanding, Olexy's energy can be felt throughout – from the cozy-chic décor and vibrant outdoor planter boxes to the elaborate pink-granite cheese bar inside, the restaurant is distinctly hers, no matter where you're sitting. And don't be surprised if you catch the consummate "Maítre Fromager" tableside, rhapsodizing about her newest blues to groups of enchanted diners. I work a lot and I love it," says Olexy. "My work is who I am – and that is the only way I know to live."
In 2013 she opened up Talula's Daily, a cafe, market and supper club adjacent to Talula's Garden.