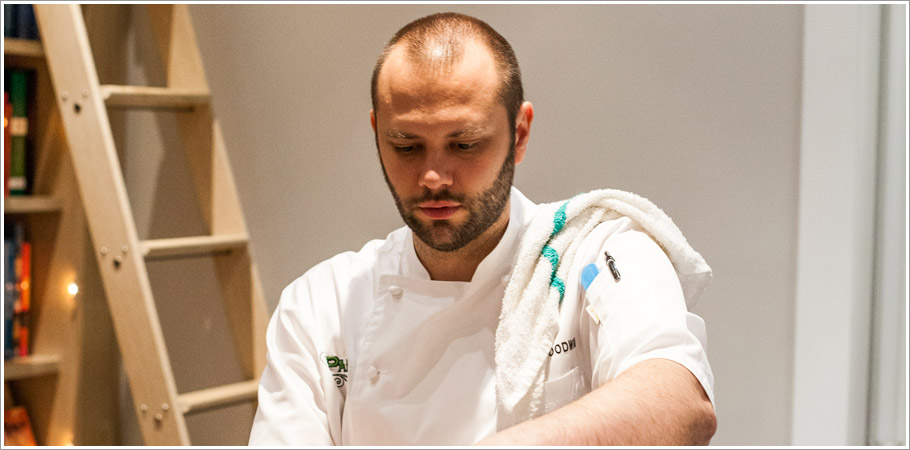 ANTHONY GOODWIN
Executive Chef,
Parc
From an early age, Anthony Goodwin knew he wanted to pursue a career in food. When he was just 14, the Hamilton, New Jersey native began working at an Italian restaurant in nearby Trenton. While the job gave him the opportunity to earn some extra money, it was his experience preparing family dinners with his grandparents that truly propelled his culinary journey. Every weekend, Goodwin would collect fresh produce and eggs from local farmers, developing an infatuation with quality ingredients that's stayed with the chef throughout his career.
After graduating from the Philadelphia Restaurant School, Goodwin broke into kitchens, eventually landing a line cook position at Georges Perrier's Brasserie Perrier, mastering French-Asian cooking under chefs Chris Scarduzio and Francesco Martorella. Within six months, he was promoted to sous chef and, subsequently, executive sous chef. After almost five years, Goodwin desired a change and moved on to become sous chef at the modern Italian restaurant Avenue B. In 2003, Goodwin was approached to assist in the opening of a new American restaurant, Bliss, where he was chef de cuisine for five years. During his tenure, Bliss was named one of the "Best New Restaurants of 2004" by Esquire.
In 2008, Goodwin joined STARR Restaurants' Pod, where he immersed himself in the culture of Japanese cooking. In addition to bolstering his Asian execution, he gained experience in catering parties and large-scale events. Two years later, Goodwin became the executive chef of Butcher and Singer, a fine-dining traditional steakhouse. In this role, the chef's commitment to sourcing came to the fore, as he took painstaking efforts to acquire the absolute best meat and fish from destinations as diverse as Lancaster County, Colorado and Alaska. Philadelphia magazine awarded Butcher and Singer the title of "Best Steakhouse of 2010."
In his current role, as the executive chef of STARR Restaurants' Parc, Goodwin draws on the time-honored Gallic knowledge he gained working for Perrier. "It has been a huge benefit," Goodwin says of the technical understanding of recipes and intricate sauce work he gleaned under the master chef. "Every day, we honor the roots of French cuisine, so we must be focused." But Goodwin also takes a very personal stake in the Rittenhouse Square restaurant, a celebrated Philadelphia gathering place that often serves thousands of satisfied guests from morning to evening. Goodwin never lets volume deter from his ultimate goal: mirroring the spirit of a true Parisian brasserie through cooking that is as thoughtful and authentic as it is delicious.