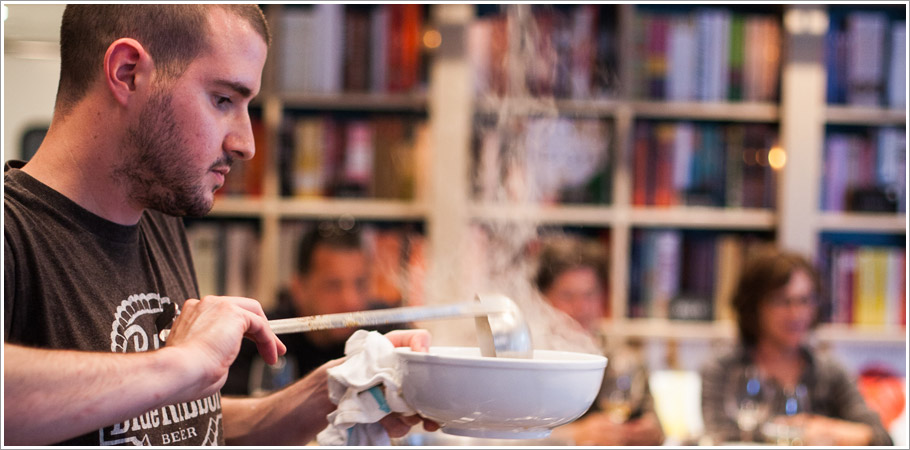 BEN PUCHOWITZ
Chef-Owner,
Cheu Noodle Bar
and Bing Bing Steam House
The son of a butcher and an art teacher, food and creative pursuits were constants in the Cheltenham native's life. After a short stint studying audio engineering at Ohio State didn't pan out, he transferred back home to Temple, tuning his academic focus to geography and urban planning. During this time, he secured entry-level cooking jobs at local restaurants to get himself through school. His cousin, chef Matt Spector, eventually recruited him for the opening kitchen staff at Matyson, a pioneer in Philly's dynamic BYOB scene.
When Matt decided to leave to open a new restaurant in California, Ben took over as Matyson's head chef, inheriting both the exciting and challenging aspects of the high-expectations gig. He began poring over culinary trends, cookbooks, food lit — anything that'd ignite ideas for his ever-changing tasting menus.
In 2013, Ben opened CHeU Noodle Bar with longtime friend Shawn Darragh. With CHeU, Ben's chasing an elusive middle ground: forward-thinking and satisfying Asian-inspired cooking that's never hindered by the rigors of tradition or expectation. Ben and Shawn are looking forward to their new venture (Bing Bing Dim Sum) set to open in the fall of 2014.