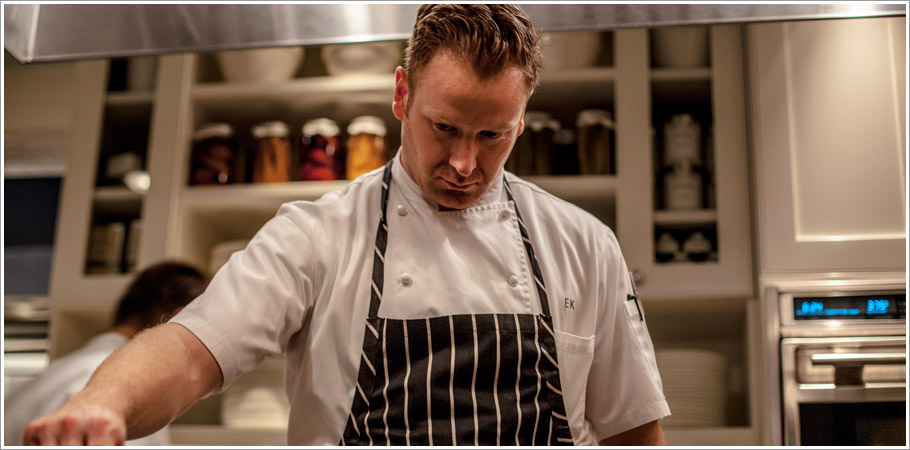 ELI KULP
Executive Chef,
Fork
,
High Street on Market
,
a.kitchen
and
a.bar
As the leader of three of Philadelphia's most celebrated and talked-about kitchens, Executive Chef Eli Kulp continues to raise the bar in a city filled with dynamic and influential young chefs. Chef Kulp currently leads the kitchens of Fork, High Street on Market and a.kitchen and a.bar at AKA Rittenhouse Square.
Adulation for Chef Kulp and his ingredient-driven, beautifully-balanced plates — at all four wildly popular restaurants — has been nothing short of glowing. Food & Wine named Chef Kulp a "Best New Chef, 2014", while Bon Appetit bestowed the title of "No. 2 Best New Restaurant in America" upon High Street on Market. These well-deserved mentions in two of the country's most prestigious food magazines, intertwined with a TV appearance on "CBS This Morning: Saturday," rounded out a memorable year for Chef Kulp, punctuated with The Philadelphia Inquirer's Craig LaBan naming him "Chef of the Year" in his 2013 "The Year in Bells" round-up. Chef Kulp was also recognized as one of StarChefs' "Rising Stars of 2013" and Eater.com selected him "Chef of the Year."
Since taking over at a.kitchen in early 2014, Chef Kulp has impressed at every turn and with every nuance. Philadelphia City Paper's Adam Erace proclaimed that "the menu is full of small plates with big flavors," and The Philadelphia Inquirer's LaBan rated a.kitchen "Three Bells: Excellent." At High Street on Market, which Chef Kulp and Fork owner Ellen Yin debuted next door to Fork in 2013, the accolades have been similarly spectacular. In his January 2014 review, LaBan called the restaurant "a parade of pleasant surprises," adding that "it in many ways sets a new Philly standard for what a casual breakfast-through-dinner concept can be…I'm digging in." Philadelphia Weekly called it "a must-visit for one of the most interesting, accomplished dinners in town," while Erace gushed that "paired with friendly, well-groomed service, [High Street] was one of my best meals of 2013…Yin and Kulp are a detail-obsessed duo that won't rest until High Street is the best restaurant in Philadelphia."
Chef Kulp first took Philadelphia by storm at Fork, where critics have been unabashed in their praise of his work. At Fork, The Inquirer's LaBan wrote that the restaurant is "one of Philly's best all-purpose, grown-up restaurants – but one now with genuine potential to someday reach even greater heights." Philadelphia magazine's Jason Sheehan called Fork "the best opening of 2013": "The combination of an interior makeover and the hiring of Chef Eli Kulp by veteran owner Ellen Yin has completely reinvigorated a restaurant that even before all the changes was pretty good. Now, it's one of the best in the city." And in 2014, Philadelphia magazine named Fork "Best Restaurant".
In late 2012, Chef Kulp departed Manhattan's venerable Torrisi Italian Specialties to helm the kitchen at Fork. Prior to his time as chef de cuisine at Torrisi, which is widely acknowledged as one of the most popular and successful locavore-driven restaurants in the country, Chef Kulp served as co-chef at Manhattan's renowned Casa Lever, where he helped create and serve the restaurant's classic Italian fare, which earned a two-star review from The New York Times. He has also worked as chef de cuisine at La Fonda del Sol, a seasonal, market-driven Spanish restaurant, and sous chef at Del Posto, one of the few restaurants in New York to receive a four-star review from the Times, the paper's highest ranking.
Chef Kulp, 36, grew up in Mossy Rock, Washington and graduated from the iconic Culinary Institute of America at Hyde Park in New York. Yin & Kulp are partners in High Street Hospitality Group, a newly-formed business venture that manages several restaurants. You can follow Chef Kulp on Twitter (@EliKulp) and Instagram (@EliKulp).