Got the Winter blues? Below freezing weather got you sniffling? COOK has you covered. At COOK we have an extensive library of cookbooks, so I browsed our collection and found two great soup recipes that will be sure to lift your spirits. I tried out the recipes for myself to show you how delicious these soups are. Thaw out your body and fill your house with warmth and spice with these recipes for homemade chicken stock and potato leek soup. Read on for the recipes and see how easy these cookbooks make home cooking!
Dark Chicken Stock
Cookbook: Pickles, Pigs & Whiskey: Recipes from My Three Favorite Food Groups and Then Some by John Currence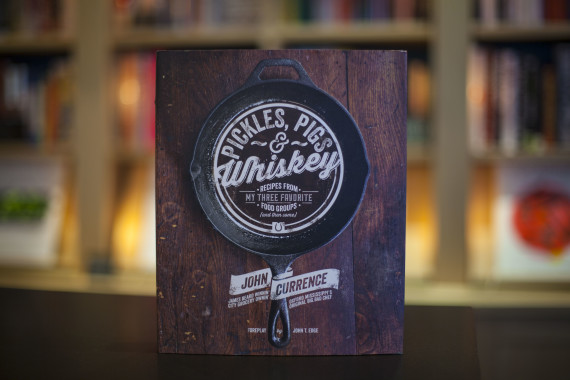 While the title may be a mouthful, this cookbook will fill your mouth with homey Southern flavor. Organized by cooking methods such as Boiling/Simmering, Slathering, Pickling/Canning, Roasting/Braising, etc, James Beard Winner John Currence breaks down Southern cooking. The cookbook has over 130 recipes, each one is explained by John and includes stories from his life. Additionally, each recipe has a song pairing with it and the entire cookbook playlist can be found on Spotify. The recipe we will be delving into first is for Dark Chicken Broth. The song accompanying this recipe, "Love For Sale" by Talking Heads is perhaps a means to diss "crappy store-bought stock" which John Currence so eloquently states.
Ingredients (Makes 6 Quarts)
2 1/2 cups roughly chopped Yellow Onions
2 cups peeled and roughly chopped Carrots
2 cups roughly chopped Celery
1 1/2 cups roughly chopped fennel stalks (optional)
8 cloves of Garlic
2 cups dry White Wine
5 fresh Bay Leaves
10 sprigs fresh Thyme
12 – 15 sprigs fresh Flat-Leaf Parsley
1 Tbsp Black Peppercorns
4 lbs Chicken Bones*
*When making homemade chicken stock, it is important to use high-quality chicken bones. You can go to your local butcher or farmer's market and find chicken bones and/or innards, which are perfect for stock. Living so close to Reading Terminal Market made this easy for me. I biked down to the market in 30 degree weather making me yearn for warm chicken stock. Once I got there I went to once of my favorite butcher shops that regularly has chicken bones and parts, Halteman Family Meats. As fate would have it Halteman's was having a sale on chicken bones, 1 lb for .99 cents! So I gladly purchased the 4 lbs of chicken bones the recipe calls for and headed home. (If you cannot access chicken bones from a butcher shop, you can use a rotisserie chicken from the market instead.)
Directions
Preheat the oven to 450 degrees. Arrange chicken bones, onions, carrots, celery, fennel, and garlic in a single layer in a large roasting pan. Roast for 15 minutes until the top starts to brown. Stir well to expose any parts that have not browned yet. Continue to roast until everything is lightly browned.
Remove pan from the oven and place contents into a large stockpot. Place the roasting pan on low heat and add the 2 cups of white wine and stir with a wooden spoons to break up any caramelized bits. This will deglaze your pan and absorb all the flavors from the leftover vegetables and chicken parts. Pour the wine deglazed mixture into the stockpot. Then add cold water to cover the bones and bring to a boil.
While waiting for the pot to come to a boil, gather your thyme, parsley, bay leaves, and black peppercorns. Place them in cheesecloth or a coffee/tea filter and wrap with string or twine. Add the herb sachet into the stockpot.
Once the mixture starts boiling, reduce immediately to low heat and let it simmer for about 3 hours. Remove the stockpot from the heat and strain the liquid into a smaller pot. Discard all solids. Return your stock to the stove and bring to a simmer. Here's a trick to remove the fat and scum from your stock. Once simmering, take the pot slightly off the heat source. This will push the fat and scum floating on top to move to one side. Using a ladle or spoon, remove the scum and fat and discard. Cool the stock to room temperature and refrigerate until residual fat congeals on top of the stock. Remove the hardened fat layer and discard. Viola! You now have amazingly fresh homemade chicken stock. The stock will last in the refrigerator for 4 days. Any extra can be stored in the freezer for 6 months, giving you plenty of stock for the winter season!
The taste of this stock was unlike any store bought stock I had ever had. Normally generic chicken stock is pretty bland and has one layer of light chicken flavor. This recipe for dark  chicken stock had layer upon layer of mouthwatering flavor. The broken down vegetables, the rendered chicken fat, and the spice from the herbs and black peppercorns all combine into that umami taste.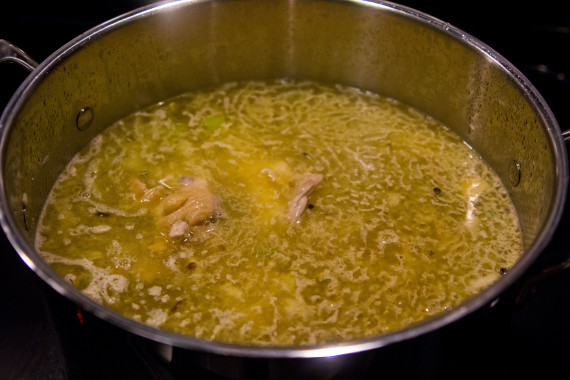 What Can I Make With The Chicken Stock?
Now that you have high-quality fresh chicken stock, you may be wondering now what? Well, chicken stock is extremely versatile. You can add your favorite pasta and some vegetables for simple and delicious chicken noodle soup. You could use the stock as a marinade for your favorite meats, use it to make sauces, or even steam your vegetables in it! Of course you could also use the stock as a base for soup. Since I promised a soup recipe and gave you a chciken stock recipe, I thought it was necessary to also provide a recipe for a heart-warming bowl of soup. While seaerching COOK's library, a book cover caught my eye. Adorned on the cover was a rustic cast iron pot filled with soup. The cookbook, My Irish Table. I was sold! So without further ado, here is a recipe for rich, creamy Potato and Leek Soup.
Potato and Leek Soup
Cookbook: My Irish Table by Cathal Armstrong & David Hagedorn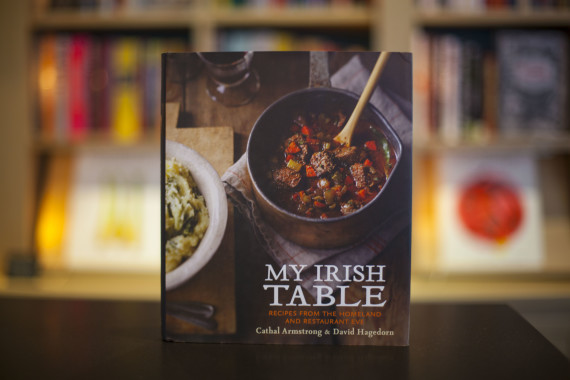 Cathal Armstorng used his Irish upbringing and French culinary training to bring forth this substantial cookbook. With over 130 recipes, Armstrong showcases how rustic Irish cuisine can be done in a more modern and elegant way. In the book Cathal Armstorng not only gives you the recipes, but he also details his journey working in Dublin through working in Washington, DC. He even has a great story about cooking for President Obama and First Lady Michelle Obama, which gave birth to a recipe for "President Obama Stew" (Chicken Casserole). Learn about Irish cuisine and experience these homestyle comfort recipes for yourself!
Ingredients (Makes 1.5 Quarts)
1/4 cup Unsalted Butter (room temperature)
4 coarsely chopped large leeks
2 diced Russet Potatoes
4 cups Chicken Stock
1 cup Heavy Cream
Kosher Salt
Freshly Ground Black Pepper
Directions
Prepare all your ingredients. Cutting leeks may be new to you, and there is a trick to cleaning leeks after cutting them. Coarsely chop your leeks and put them into a large bowl with cold water. Leeks are filled with sand, so massage each piece to remove the sand. The sand will sink to the bottom of the bowl while the leeks will float. Scoop the now clean leeks into a colander and let strain.
Melt the quarter cup of butter in a heavy pot over medium heat. Stir in your potatoes and leeks and let them sweat for about 15 minutes.  Add your Dark Chicken Stock that we prepared previously. If you don't have the homemade chicken stock you can always use store bought chicken stock. Additionally, you can substitute chicken stock for vegetable stock if you have dietary restrictions. Next, add the heavy cream as well and bring to a boil. Lower the heat to medium and then let simmer for 30 minutes until the potatoes are very soft.
Purée the soup either in batches using a blender, or with an immersion blender. I personally opted to use my immersion blender. Once blended until smooth, pass the soup through a fine mesh strainer or china cap into a clean pan. Season to taste with salt. Keep the soup warm over low heat until ready to serve. Garnish with a crack of black pepper and serve with bread, (for dipping and cleaning your bowl of course.)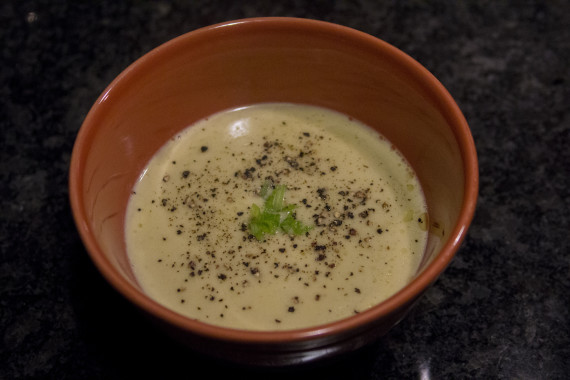 I hope these recipes inspire you to take a day to relax and make soup for hours. Not only was the experience therapeutic, but also it yielded a lot of delicious soup that will help keep me warm for the upcoming week. So stop into COOK today to browse our library of cookbooks as well as our boutique pantry. We are open for retail Tuesday – Sunday from 12-5pm, unless we have a class in session. You'll be glad that you have some trusty cookbooks with heart-warming recipes inside the next day it's snowy, rainy or just plain too cold to go outside!
Back to Blog