Ni hao! We're getting into the holiday spirit early at COOK with a Chinese New Year celebration dinner. Wife and husband duo Judy Ni and Andy Tessier of Baology will be preparing a feast at COOK this Saturday to commemorate the yearly tradition. In anticipation of their dinner, I wanted to do a bit of research as to what exactly happens on Chinese New Year and what the Chinese zodiac for this year means. Additionally, I scouted some Chinatown spots that are sure to get your Year of the Dog off to a great start.
The Year of the Dog
Chinese New Year is based on a lunar calendar, so the dates do not match up with our sun-based calendars and differ from year to year. However, Chinese New Year always falls between January and mid-February. The 2018 festivities begin February 16th and will last for 15 days until March 2nd. The lunar based event also is structured by 12 animal zodiacs, each one corresponding with a year. The year in which you were born determines your Chinese zodiac symbol. This year in particular is the 11th cycle, making it the year of the dog. If you were born in 1934, 1946, 1958, 1970, 1982, 1994, 2006, 0r 2018, then this is your year! Awesome, good luck for you right?! WRONG! The Chinese New Year is viewed as a trial for those whose zodiac sign is being honored. The year may be full of tribulations which are meant to test your resolve and ultimately strengthen you as a person. After a year of perseverance, dogs can look forward to continued success and happiness. So all you dogs out there, 2019 is looking great already!
According to the Chinese Zodiacs, people born into the symbol of the dog tend to be honest, loyal, and true friends (much like our faithful companions). For more information on Chinese New Year and to learn about your own zodiac sign, click here.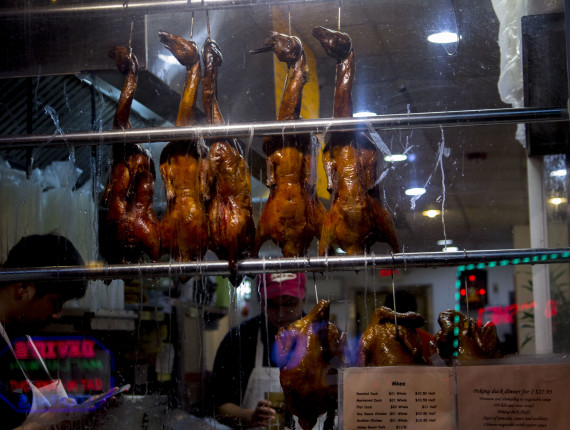 Food plays a significant role in Chinese New Year traditions. Families gather to eat a feast designed to bring wealth, prosperity and happiness to all. Cuisine varies from region to region, as well as from family to family; however some Chinese dishes are true staples. Andy and Judy of Baology are cooking up longevity noodles, a whole fish, and potstickers as part of their feast. If you are looking for your a place of your own to enjoy some Chinese delicacies, I've highlighted a couple restaurants in Chinatown that will be sure to satisfy your hunger and bring you joy all year (of the dog) long!
Dim Sum Garden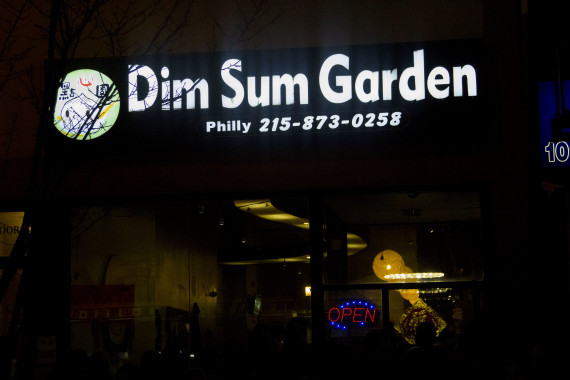 Address: 1020 Race Street, Philadelphia, PA 19107
Website: dimsumgardenphilly.com
Phone: 215-873-0258
Looking for a place to bring a large group of people? Dim Sum Garden in Chinatown is perfect for having a family gathering or going out for a casual night on the town with friends. Since dim sum is a style of Chinese cuisine that involves eating small bites, sharing is the best way to enjoy your meal. Simply keep ordering until you've had your fill. Dim Sum Garden has many vegetable options, making it perfect for the vegetarians and vegans in your party. Since Dim Sum Garden is one of the more popular places to eat in Chinatown, there is often a line going down the ramp inside. The line even extended outside on the busy Saturday night that I went, but good things come to those who wait! If you've never been, the most popular dish on the menu is by far the soup dumplings – tender dumplings filled with pork, crab or vegetables and a piping hot, flavorful broth.
Xi'an Sizzling Woks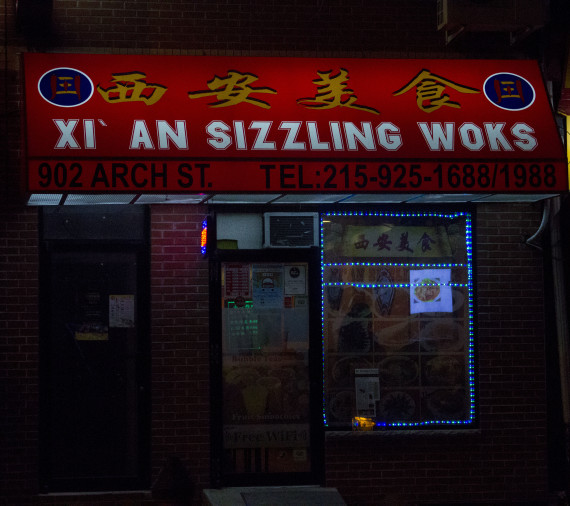 Address: 902 Arch Street, Philadelphia, PA 19107
Website: xiansizzlingwoksphilly.com
Phone: 215-925-1688
If you are looking for a smaller, more intimate place to eat out in Chinatown, head to Xi'an Sizzling Woks. It may be small and cozy, but the flavors are big and bold! Bring a bottle of your favorite beer or wine as this place is BYOB. Thirsty for something other than booze? Go for the Jasmine Green Boba Milk Tea – floral, light and super refreshing! It served as the ultimate palate cleanser between spicy dishes. On my recent visit, I enjoyed scallion pancakes, followed by Biang Biang noodles with garlic, served with a side spicy garlic dipping broth, meant for dipping each noodle before consuming. Next up: twice cooked pork based on my sister's passioned recommendation. SHE WAS SO RIGHT. The dish features pork belly, first simmered with spices until it is cooked fully. Then the pork belly is sliced thin and cooked again in a stir fry with bell peppers, garlic, shallots and cabbage. Spicy pork heaven, basically.
From all of us at COOK, welcome to the Year of the Dog!
Back to Blog