"When the moon hits your eye like a big pizza pie, that's amore". If you love pizza, then rejoice because today is National Pizza Day! COOK is here to help you celebrate with some pizza making recipes and pizza cookbook recommendations. Additionally, as a former pizzaiolo, I have learned the art of pizza making and want to share some tips for this grand holiday. So let's get rolling!
Pizza Camp by Joe Beddia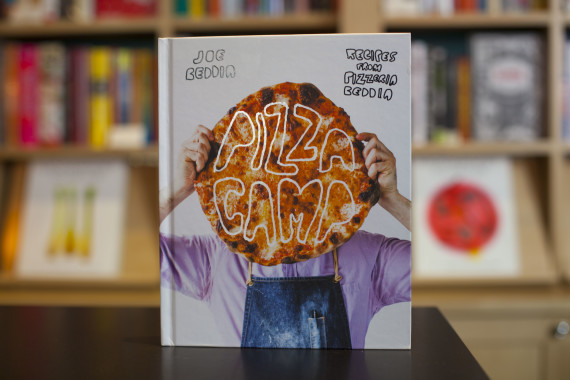 If you live in Philly and love pizza, chances are you have heard of the legendary Pizzeria Beddia. Located in Fishtown, this tiny pizzeria made it big in 2015 when Bon Appétit named it Best Pizza in America. If you haven't been, time is running out – owner Joe Beddia has been hinting for a while now about closing shop, but soon it will be official. Check out Philadelphia Magazine to learn more about the impending closure. Fortunately, even after Pizzeria Beddia is no more, you can still replicate Joe Beddia's nationally-renowned pies via his Pizza Camp cookbook. The book includes recipes from Pizzeria Beddia as well as notes on essential equipment and quality ingredients, personal stories and beautiful candid photos.
With pizza, it's all about the base. One of the (if not the) most important parts of any pizza is the dough. So why not learn how to make pizza dough from one of the best? Read on for Joe Beddia's pizza dough recipe.
Pizza Dough
Ingredients
1 1/2 cups cool water
2 tsp sugar
1/2 tsp active dry yeast
3 1/2 cups all-purpose or bread flour
1 tbsp + 1/2 tsp fine sea salt
Directions
Whisk together the water with the sugar and the yeast in a large stainless steel bowl. Next, mix in the olive oil, followed by the flour. Use a wooden spoon or go rustic and use your hands to mix together your dough. Once everything is incorporated and there are no dry parts, cover the dough with plastic wrap or a damp towel. Let it rest in the bowl for 30 minutes.
Now it's time to knead the salt into the dough. The reason you wait to add the salt until now is because the salt will hinder the yeast from developing early on. Remove the dough from the bowl and transfer onto the counter. Sprinkle some of the salt onto the counter and the rest directly onto the dough. Using wet hands knead the salt into the dough. Cover again and refrigerate for 24 hours. Once chilled, take the dough out and scrape it out onto your counter. Using well-floured hands, rotate the dough onto itself incorporate into a smooth round ball. Cut the dough in half. Fold the dough over on itself using the same rotating technique as before. Let the dough sit out for a few hours until it has doubled in size. You are now ready to turn the dough into a pizza, so let's talk sauce and toppings!
Franny's: Simple Seasonal Italian by Andrew Feinberg, Francine Stephens, and Melissa Clark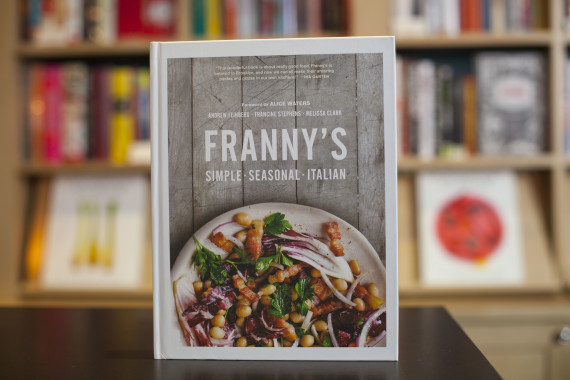 Franny's: Simple Seasonal Italian is a must have for any lover of Italian food. This Southern Italian inspired cookbook from the now-closed Brooklyn eatery breaks down rustic traditions into easy to learn recipes. Andrew Feinberg does a great job providing notes for the reader to better understand Italian cuisine. His pizza sauce recipe is so simple that it's almost hard to believe. I chose this recipe because it uses San Marzano tomatoes which many in the pizza industry have deemed as the gold standard tomatoes for pizza sauce.
Pizza Sauce
Ingredients
One 28 oz can whole San Marzano tomatoes (drained)
1/2 tsp kosher salt, or more to taste
1/4 tsp freshly cracked black pepper
Directions
I'll keep this short. Blend the San Marzano tomatoes together, ideally with an immersion blender. Don't over blend the tomatoes, leave a few small chunks. Season with salt and pepper. That's really it! You can freeze the sauce if you have too much of it.
The Elements of Pizza by Ken Forkish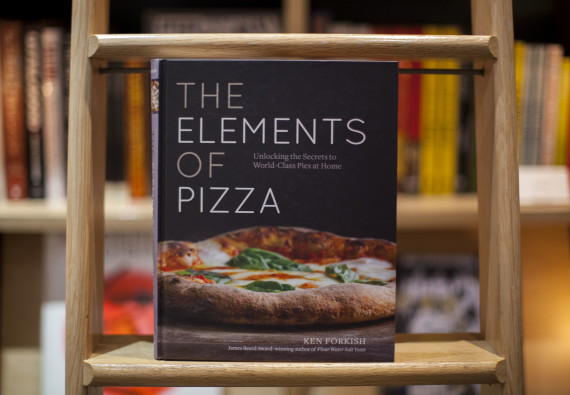 James Beard award-winning author Ken Forkish breaks down how to make delicious pizza at home. In his The Elements of Pizza Ken provides readers with multiple dough recipes, as well as sauce/topping recipes for both white pies and classic Italian pies. Ken introduces the book with a chapter titled "The Soul of Pizza" which tells the story of the culture of pizza in various regions in Italy, so you'll learn more than just recipes! I wanted to highlight Ken's Pizza Margherita since it is the most iconic of Italian pizzas.
Pizza Margherita 
Ingredients 
1 pizza dough ball
1/4 to 1/3 cup tomato sauce
Extra virgin olive oil
1/4 cup grated Pecorino Romano or Parmigiano-Reggiano cheese
3 1/2 to 4 oz fresh whole-milk mozzarella or brine-packed mozzarella di bufala, sliced into short 1/2 inch thick strips
3 to 5 whole basil leaves
Directions
Using the pizza dough and pizza sauce recipes from the other featured cookbooks, stretch out your dough and spoon the sauce over it . Transfer to your pizza stone and bake at 550 degrees for 4 minutes, or until the crust starts to turn golden. Take the pizza out of the oven sprinkle the grated cheese over top and place the mozzarella and basil on top along with a spoonful of oil. Place it back in the oven and cook for 1-2 minutes. Remove from the oven and drizzle with olive oil. (Note: read on for tips on stretching dough and heating your oven.)
Home Baking Tips
Nick Macri of La Divisa Meats recently cooked an Alsatian dinner at COOK and used a pizza stone to make a flatbread. While cooking he divulged some tricks to COOK guests for making better pizza at home. Here are Nick's pizza pointers:
Preheat your pizza stone well before baking. Crank up your oven to its highest temperature setting (probably around 550°F) and let your stone heat up for at least two hours. Having an immensely hot surface is crucial baking the crust without burning the top of your pizza.
Bake your pizza for about 5 minutes and then switch your oven to broil for the last minute or so to bake the top and get the cheese bubbly. This will give your home oven a pizza shop bake effect, complete with slightly charred dough bubbles.
Even when you're not making pizza, keep your pizza stone in the oven to help regulate the temperature. When you open your oven door heat rushes out and greatly decreases the temperature inside your oven. Keeping a pizza stone on the bottom rack of your oven allows for your oven to hold more heat in the stone and thus will stabilize the temperature a bit.
Following Nick's tips will elevate your pizza game to the next level. But if you want to keep going and turn into a pizza pro, add these tricks into your kitchen arsenal as well. Here are the pizza making skills and tips that I learned from my time at a Philadelphia pizzeria:
Build out your crust and avoid the middle of your dough. Start an inch or an inch and a half in from the outside of your dough. Use your fingers, press down and go around the dough to create your crust. Once you have an indented ring in your dough, lay your hands flat and rotate the dough around the indentation.
Rolling is for chumps. Stretching your pizza dough is not just faster than rolling it, it's also more fun! Once you have built out your crust, pick up your dough and toss it between your hands. Make sure you don't touch the middle! Then switch to using your knuckles and forearms to stretch out the dough. If you are trying to make a giant pie don't be afraid to use your elbows to expand your dough, just make sure you are clean!
Use plenty of flour on your pizza peel. If your pizza sticks to the peel you will have trouble getting it onto your pizza stone cleanly. No one wants a misshapen pizza slice, so make sure your peel is room temperature, dry and dusted. Personally, I like using corn meal as it will help prevent sticking as well as add texture to your bottom crust.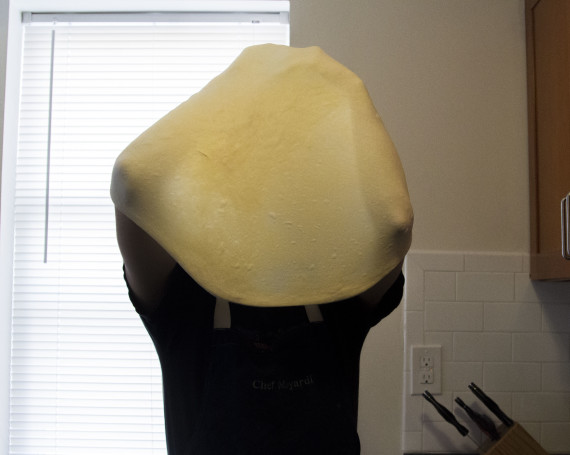 Now that you have a pizza dough and a tomato sauce recipe, the pizza possibilities are endless. Take some fresh ingredients and make your own creation! By using the recipes as building blocks, and following the tips and tricks provided, you can now throw your own pizza party on this cheesy holiday. Stop into COOK, grab a pizza cookbook or two and toss some dough! What are you waiting for? This day only happens once a year, so celebrate National Pizza Day today!
Back to Blog