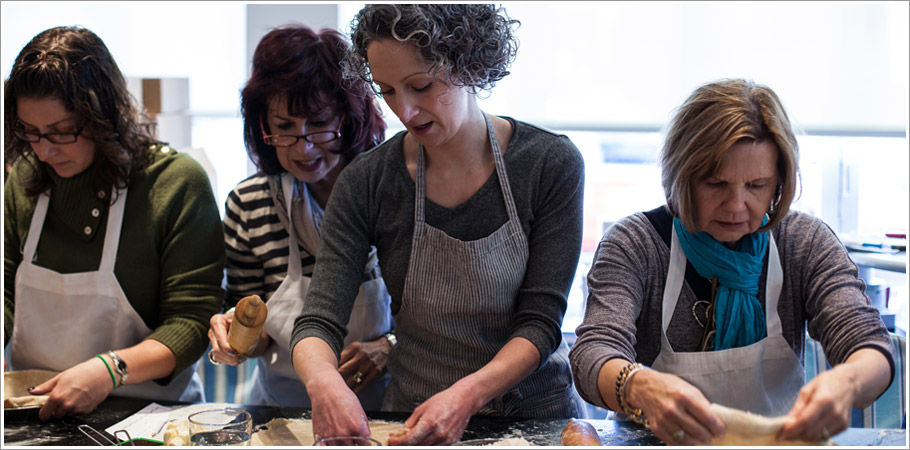 HOLLY RICCIARDI
Owner-Baker,
Magpie Artisan Pie Boutique
Former Philadelphia advertising executive Holly Ricciardi opened Magpie Artisan Pie Bakery & Boutique at 1622 South Street in the summer of 2012. Specializing in sweet AND savory pies, Magpie's creations feature seasonal ingredients.
A graduate of Kutztown University (BFA) and The International Culinary School at The Art Institute of Philadelphia, Ricciardi began working as a graphic designer in 1995, and co-founded 20nine, an award-winning brand development agency located in Conshohocken, with her husband Greg in 2002.
"Competitive baking was considered a sport inside my family's Carlisle, PA home growing up," said a jubilant Ricciardi. "My mother, grandmother and three sisters all baked, so there was a lot of pressure to turn out beautiful, delicious creations. I'm bringing that same competitive spirit to Magpie, and hoping to wow every single customer we serve."
Selections from the sweet side of Magpie's frequentlymenu include: sour cherry almond streusel; salted chocolate meringue; orange blossom peach raspberry; blueberry cardamom polenta; toasted coconut rum cream; butterscotch bourbon custard; and a new take on the classic Shoofly. Savory pies, served with a side of homemade pickled vegetables, include: croque monsieur; spinach dill feta; ham potato leek; and chicken tarragon.
Ricciardi introduced Pie Fries to Philadelphia — French-fry sized piecrust strips served with seasonal fruit dipping sauzes. "My mom used to roll out her extra pie crust and bake off Pie Fries while we were waiting for pies to cool," noted Ricciardi. "These sweet treats are perfect snacks for kids of all ages."