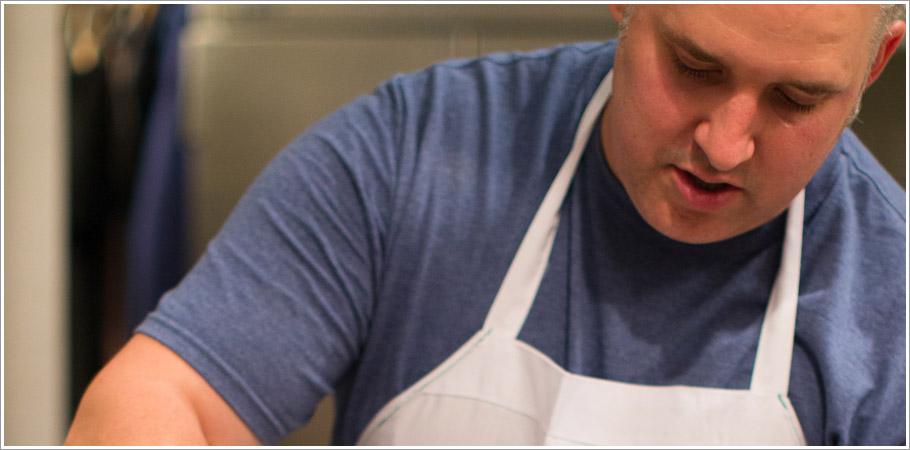 JAMES DAVIDSON
Executive Chef,
Fette Sau
"Cooking was just something I always did," says James Davidson, Executive Chef of STARR Restaurants' Frankford Hall and Fette Sau in Philadelphia. The New Jersey native indeed got an early start in the kitchen, learning the secrets of Italian-American classics like gnocchi and slow-simmered Sunday gravy from his mother, an exceptional home cook.
Making the big decision to turn his culinary interest into a career, Davidson enrolled in Baltimore International Culinary College after high school. Relocating to Boston for a fresh start, Davidson started his New England cooking career at Back Bay Brewing Company, an ahead-of-its-time craft brewpub. He later found a formative niche with chef Lydia Shire, the godmother of Boston cuisine, at her groundbreaking Italian restaurant Biba. "That's when I really started cooking," says Davidson. "The first time I walked into that kitchen, Lydia was making blood sausage and completely covered in blood. I immediately started to stuff sausages and got covered in blood, too. It was right then that I fell in love with it."
After a year at Biba, Davidson jumped into the kitchen at Rialto, run by influential chef Jody Adams, pulling day duty at Shire's Pignoli throughout. His next move saw him taking an executive sous chef position at Grill 23, Boston's premier high-end steakhouse. Davidson put in more than six years there, mastering butchering, menu development and staff management, before becoming executive sous chef at Hanover Street Chop House in Manchester, N.H. Returning to Boston, Davidson logged a stint at Sibling Rivalry, the modern dining concept run by highly regarded chefs Bob and David Kinkead.
In 2007, Davidson returned to the Philly region, landing at Barclay Prime, his first post in within the STARR orbit. He went on to open Butcher and Singer, the classic American steakhouse in Center City, and also contributed his talents to STARR's high-end catering operations in the Philadelphia Museum of Art alongside chef Shane Cash.
Davidson's first post as the head of a kitchen came with the opening of STARR's Frankford Hall, the popular open-air beer garden in Philly's rapidly developing Fishtown neighborhood. "Good ingredients prepared well" is the hallmark of the simple but dynamic menu, executed by Davidson with help from Ready Willing & Able, a local non-profit that empowers recovering addicts and previously incarcerated individuals through employment opportunities. "We're able to take those who have never been given a second chance and let them prove that they're reliable, hard-working people with great attitudes," says Davidson of his involvement with the program.
In addition to his duties at Frankford Hall, Davidson has also been tapped to run the kitchen at the adjacent Fette Sau, a Philadelphia expansion of restaurateur Joe Carroll's popular Brooklyn barbecue restaurant. "We're working hard to mirror the fantastic job Joe does in Brooklyn, while putting a Philly spin on it," says Davidson, who resides in South Jersey with his wife and dog.