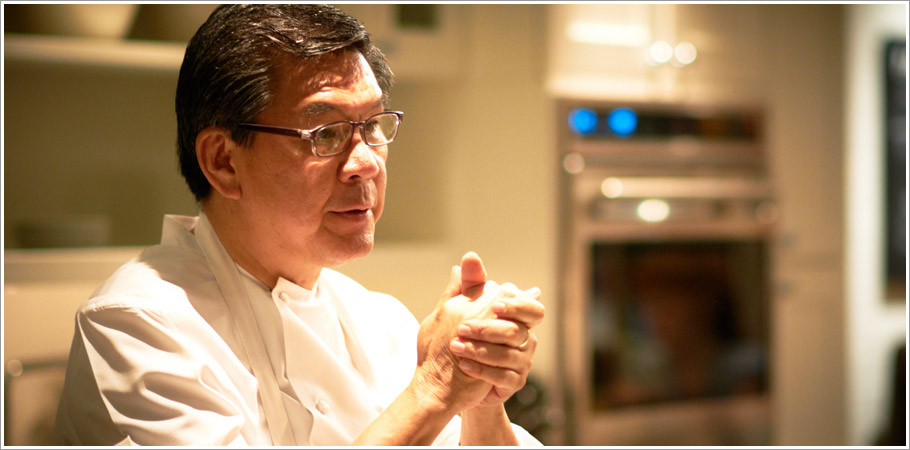 KIONG BANH
Chef,
Twenty Manning Grill
One look at Kiong Banh's personal and professional background and it's easy to understand his culinary style. In 1955, Kiong was born in Vietnam to parents of Chinese decent. Kiong's parents, owners of a French bakery, were very close with all of their children. They raised their children in an Asian culture based on tight family values, respect, trust and loyalty. He lived in Vietnam until he was thirty years old.
After settling in Philadelphia in 1985, he decided to follow his interest in cooking. He worked in the kitchens of many top hotels, including the Bellevue-Stratford and the Rittenhouse, where he met French – Asian chef Philippe Chin. He spent 12 years working quietly and industriously alongside Chin. When Chin opened his first restaurant, Chanterelles, in 1989, Kiong joined his staff. When Chin opened his next restaurant, Chin Chin, Kiong became the Chef de Cuisine.
In 2000, Kiong was introduced to Audrey Claire Taichman through their mutual friend, Marc Vetri. Kiong and Audrey joined forces at Rittenhouse's Asian-fusion hotspot, Twenty Manning (as it was then known). Last year, Kiong and Audrey reinvented Twenty Manning by turning it into Twenty Manning Grill: a comfortable and chic neighborhood bistro. Kiong draws inspiration for his New American cuisine by blending select Asian flavors into the dishes he currently prepares at the restaurant. He also oversees the menu development at the TMG's sister restaurant across the street, Audrey Claire, and is an integral part of the team at COOK.
Every day, Chef Kiong begins his morning with a trip to the Asian Markets where he finds his fresh and unique ingredients. Kiong picks from choice meats and fishes such as rockfish, mahi-mahi and Alaskan halibut. Chinese long beans, kumquats, persimmons and water spinach compliment his recipes. Fresh herbs and rarities such as purple Thai basil and ciso leaf are grown in his personal garden and used to compliment several menu favorites.