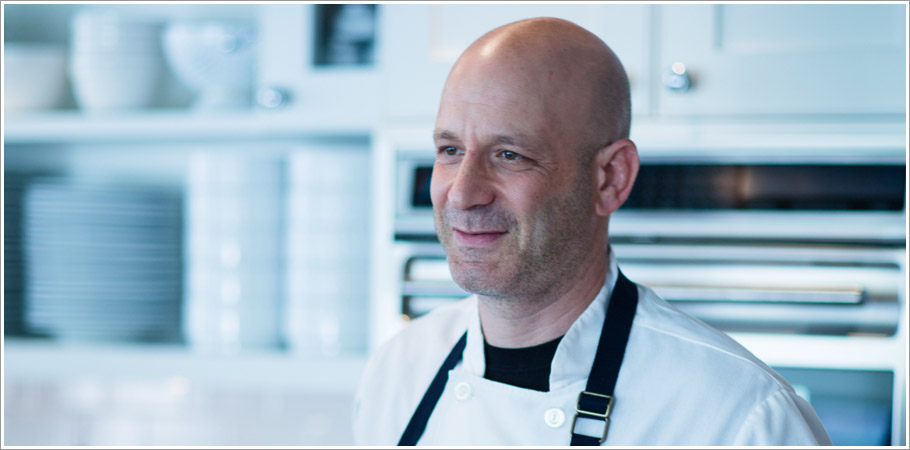 MARC VETRI
Head Chef/Owner,
Vetri
,
Amis
,
Osteria
,
Alla Spina
Trained in Bergamo, Italy, by some of the region's most noted chefs, Marc Vetri brings a bold, contemporary sensibility to classic Italian cooking. Within two years of opening his eponymous Philadelphia restaurant, Marc was named one of Food & Wine's Ten Best New Chefs and received the Philadelphia Inquirer's highest restaurant rating. In 2005, Marc won the James Beard Award for "Best Chef Mid-Atlantic." Marc opened Vetri, his intimate 40-seat restaurant in the heart of Center City Philadelphia in 1998. His outstanding pastas, innovative flavor combinations and artful presentations captured diners' imaginations and propelled Marc to the forefront of culinary trends. February 2007, Marc opened Osteria just north of Center City at 640 North Broad Street. The much larger and more casual second restaurant is the perfect place for traditional Italian thin crust pizza, homemade pastas and wood grilled meats and fish. Osteria was nominated for "Best New Restaurant" in 2008 by James Beard Foundation.
In January 2010, Marc opened his third restaurant, Amis, located in Washington Square at 412 South 13th Street. Inspired by Rome's neighborhood trattorias, this smaller but energetic restaurant specializes in small plates such as handcrafted pastas and house cured meats. In November 2010, Bon Appetit named Amis one of the top 10 places for pasta in the country. Marc's next venture, due to open in the winter of 2011, is an Italian gastropub, also located on North Broad Street.
In all of the restaurants, Marc's flavors are simple yet pronounced. Freshness is his muse. He chooses the finest seasonal ingredients from local farm markets and premium purveyors around the US and Italy. He keeps cooking to a minimum and preparations straightforward. "Cooking is about finding high-quality, regional ingredients," he says, "then using the simplest techniques to convey their purity."
Marc's is the author of il viaggio di vetri, a collection of more than 125 of his most-requested dishes. The book tells the story of Marc's culinary journey from Philadelphia to California to Italy to New York and finally, back to Philly to share the Italian cuisine he loves with the people in his hometown. Rustic Italia, Marc's second book due out fall of 2011, will bring artisan cooking into your home. Both books are from Ten Speed Press.
Marc is actively involved in many philanthropic causes in the Philadelphia area. In 2009, Marc and his business partner, Jeff Benjamin, created the Vetri Foundation for Children. Its mission is to promote healthy living styles among at-risk youth. Marc lives in Philadelphia with his wife, Megan, and their three children. He enjoys spending Sundays cooking with his children and teaching them how to make pasta.
Marc's culinary training began early. As a boy, he cooked on the weekends with his Sicilian grandmother in South Philly. As a young man, he cooked his way through school while studying business and music. In California, he got more serious about food and took a job cooking at Wolfgang Puck's Granita. Disillusioned with California's fusion of cuisines, he followed his passion to Italy, his roots, where he immersed himself in Italian food and culture. He cooked all over Italy, learning to butcher meat, make prosciutto, and roll supple fresh pastas.
Years later, armed with more skills and dedication than ever before, Marc returned to the U.S. and honed his chops at restaurants such as Coco Pazzo and Bella Blu in New York. Under his direction as executive chef, Bella Blu was named "Best New Restaurant" by New York magazine in 1996. All the while, Marc dreamed of owning his own restaurant, one that was small and intimate with a relaxed atmosphere, just like the best trattorias in Italy. He wanted a place to practice his craft, a place that would inspire him, a place where he could personally cook the meals for each and every guest.
When Marc visited 1312 Spruce Street in Center City Philadelphia, the former home of Le Bec-Fin, he knew he found the perfect place. After 15 years of cooking in more than 20 restaurants around the world, his dream became a reality. He opened Vetri, his restaurant "home," and followed his vision of creating elegant, hand-crafted food for every table. With his superb tasting menus, he helped diners discover the incredible flavors of veal kidneys, guinea hen, roasted goat, and more.
Marc is extremely passionate about giving back to the community. For years, he has been involved with many organizations including Little Smiles, Community Partnership School, Achieve-Ability and National Stuttering Association. In 2005, Marc met Liz and Jay Scott, parents and founders of Alex's Lemonade Stand Foundation (ALSF). Marc, along with business partner Jeff Benjamin, were so inspired by the Scott's, they created The Great Chef's Event to benefit ALSF. Chefs from all of the country rallied behind them producing a fundraising event that featured wonderful food along with raising awareness for childhood cancers. In 2010, more than 1200 people attended, dining on foods prepared by 35 nationally recognized chefs and raised more than a half a million dollars. In addition, with Marc's support, other chefs have started similar events in Los Angeles and New York City.
Marc soon realized that he wanted to do more. In 2009, Marc and business partner Benjamin, created the Vetri Foundation For Children. In addition to continuing the support of the other worthwhile charities, the Foundation focuses on the childhood obesity crisis. Taking the lessons learned by years in the culinary world, Marc wanted to create environments for children that would promote healthy eating and lifestyle choices thus having an impact on their overall health and wellness.
In the summer of 2010, the first effort in support of this mission was transforming the dining experience at ESF Dream Camp, a 5-week day program for at-risk children in Philadelphia. While remaining within the federal guidelines for government subsidized school meals, Vetri and Chef Jeff Michaud designed menus, prepared locally grown and freshly made lunches daily for more than 300 campers. The children were introduced to variety of foods that were visually appealing and nutritionally sound. Campers also got the chance to spend time with Marc and Jeff learning about nutrition, investigating the ways their food gets from a garden or a farm to their plates and receiving tips on food preparation. A special emphasis was placed on social interaction and communication which was done by conducting all meals in an interactive family style manner.
Encouraged by the success of this program, plans are now underway to develop similar programs in local schools.