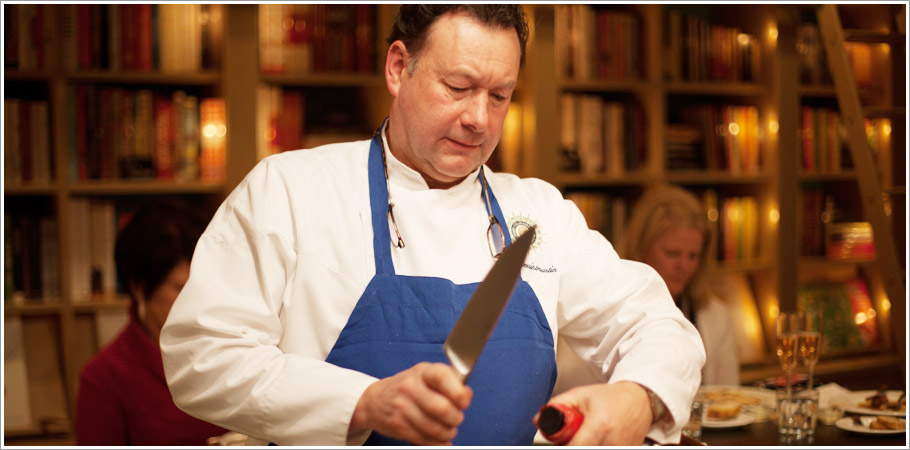 OLIVIER DESAINTMARTIN
Chef-Owner,
Caribou Café
and
Zinc Bistro
Olivier Desaintmartin, chef and owner of Caribou Café and Zinc Bistro attended the hotel school in Paris, and has studied under world renowned chefs Michel Guerard, Jacques Chibois, Gaston Lenôtre and Le Coze. He is also a Champion on The Food Network's "Chopped."
With Caribou, chef Desaintmartin wanted to make a departure from the world of the "white tablecloth." A native of Champagne, France, he has focused on the hearty comfort food that he grew up with; that the French eat everyday. His recipes come from Provence, Gascony, Loire, Burgundy, Brittany, Paris, Lyon and more. Simple, but elegant and tasty dishes that are evocative of the home-kitchens across France. From Onion soup, Quiche and warm Frisee Salad to Cassoulet, Steak frites or Skate fish with capers, Olivier follows the seasons. You will find Steak tartare or Salade Niçoise in the summer, Boeuf Bourguignon, Duck Magret au Cassis, and Cassolette de Champignons in the winter.
ZINC opened its doors in 2007 and has since earned the acclaims of savvy gourmet experts in Philadelphia and more recently obtained 26 from ZAGAT (2013). This French Bistro is nothing short of a "Le Marais" style bar & restaurant; serving Cuisine Bourgeoise in the tradition of the upscale neighborhoods of Paris. Desaintmartin acquired a 1919-era zinc bar from a Parisian bistro, refinished it, and shipped it to the cozy 40 seat bar & restaurant, adding to the authentic experience.
Acclaimed for its food, romance and its specialty drinks, Zinc is, in the tradition of Le Marais, a hangout for locals, a place for friends. Share a charcuterie plate or fresh oysters and a glass of Chinon, or sit at the bar sipping a French aperitif while waiting for your party. ZINC offers a quaint restaurant atmosphere off the beaten path, and brings the authentic touches of the "Bobos" of Paris to Midtown Village.