Tis the season for hearty slow-cooked meat! December is almost here so that means it's time to start planning those holiday feasts. The star of the holiday table: a large and ready-to-carve cut of meat that has been cooked for hours. I went to Reading Terminal Market to talk to a meat expert who also has great experience with family feasts and rich traditions. Frequent COOK instructor Nick Macri (aka Meat Man Macri) of La Divisa Meats comes from a Calabrian family, which helped shape his butcher shop. In this article, you'll learn more about Nick's Italian-rooted holiday traditions, how they inspired his shop, as well as the meats La Divisa offers for your own holiday feasts!
Nick Macri got into the butchering world through his parents. His mother Teresa and father Paolo grew up in Southern Italy. Specifically they are from Southern Chiaravalle which is just outside of Calabria's capital, Catanzaro. The parcel of land that his maternal grandmother Angela has a farm on is called La Divisa, hence La Divisa Meats. The farm used to raise pigs, and poultry with sheep out to pasture. Angela still has the farm to this day, but now only chickens reside on the farm. Living on a farm, Nick's parents learned how to preserve meats out of necessity. Southern Italy has a strong tradition of preserving meats for the winter in order to save money and have food reserves. He took the meat curing knowledge from his family and combined it with a degree in Food Sciences from Drexel University. In the La Divisa case, you'll find amazing cured meats, from cabrizo goat chorizo to beef and bacon salami.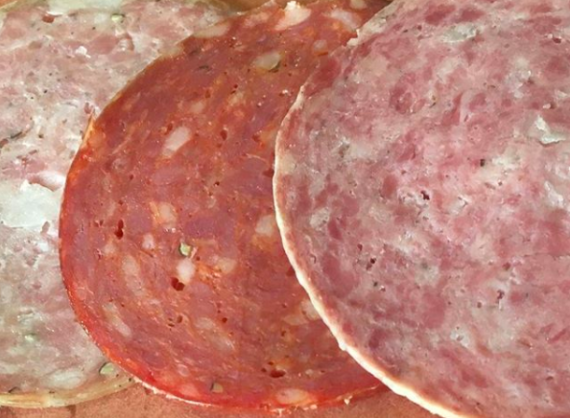 A shot of La Divisa's cured meats from their Instagram account.
The family influences on Nick's shop don't stop there. One of the Macri's family traditions during Christmas is playing cards. They use an Italian playing card deck, which has different suits than a Modern Latin card deck. One of the suits, "denari" meaning coins, is the logo for La Divisa Meats.
Playing Italian card games was the relaxing conclusion to a family Christmas dinner. Italians start Christmas off early, having the classic "Feast of Seven Fishes" on Christmas Eve. Nick's family immigrated to Canada and, like many Italian immigrants developed their own version of the fish feast. He told me they always had salt cod, a tomato pasta dish, marinated octopus salad, some type of fried fish, and calamari. Christmas day has its own bountiful spread, with pork and beef reigning supreme. Antipasti kicks off the meal, followed by arancini (fried risotto balls), prosciutto, meaty lasagna and pork capocollo. The main dish changes, but they usually showcase ham, lamb or porchetta.  The feast ends on a light note with some citrus, raw fennel and chestnuts.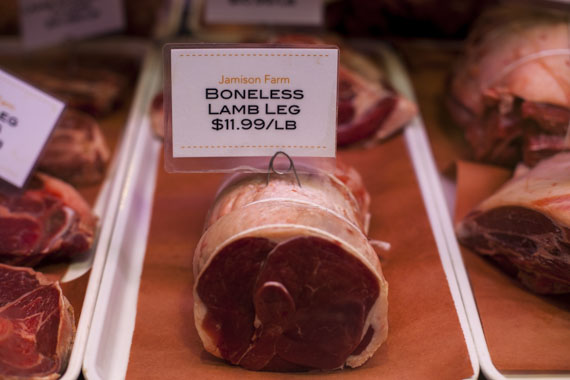 In addition to influencing his logo, Nick's Calabrian roots and family traditions inspire the selection of meats in his market stand. All La Divisa meats are sourced humanely and locally from farms throughout Pennsylvania. For your holiday dinner Nick recommends fresh seasoned hams, pork shoulder, porchetta, leg of lamb, and stuffed beef shanks dubbed "the Dario."  La Divisa will carry all of these cuts this holiday season. It is best to call ahead of time to ensure the meats are available.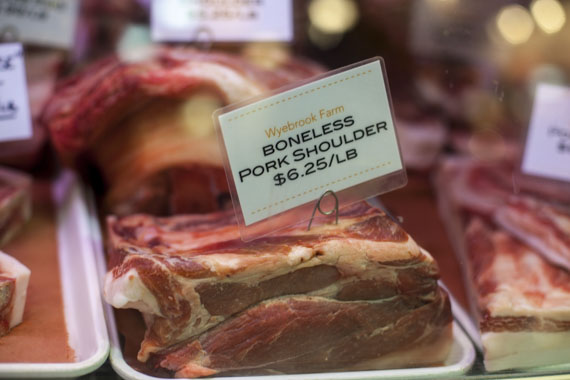 The Dario was inspired by Dario Ceccini, a legendary Tuscan butcher. He shared Ceccini's recipe with me, but lucky for you La Divisa sells the shank ready to go, seasoned with the bones out and tied. You can't mess it up!
How To Order Meats
Call the shop at 215-627-2100, email La Divisa or come in person to the retail meat stand in Reading Terminal Market, 51 N 12th Street, Philadelphia, PA 19107.
Word to the wise: Please do not try to contact La Divisa Meats via Instagram! You will not be successful in obtaining your holiday meats. Nothing is worse than scrambling the day before a party. Don't let your Uncle Tony down, get your meats from Nick Macri today!
La Divisa Meats' Hours
8 am – 6 pm (Monday – Saturday)  •  9 am – 5 pm (Sunday)
Subject to change with Reading Terminal Market's extended holiday hours.
Closed Christmas day, open Christmas Eve.
Back to Blog