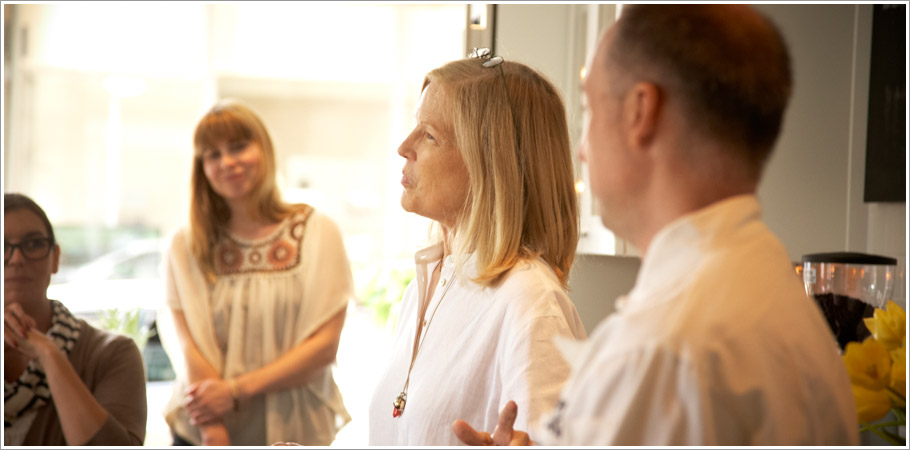 WENDY SMITH BORN
Owner,
Metropolitan Bakery
Until twenty years ago, despite living in a city that's been called the "Paris of the U.S.," Philadelphians couldn't get a decent baguette.
Enter Wendy Smith Born and James Barrett, who decided in 1993 to cobble together the money to open what has now become a fixture of Philly's booming culinary scene—Metropolitan Bakery. Known for their intense, earthy flavors, crackling crusts and complex texture, Metropolitan breads are baked in over 30 varieties at their 10,000-foot Fishtown bakery and then delivered to four neighborhood shops and to more than 90 of Philly's best restaurants and markets (including Lacroix, White Dog Café, Village Whiskey, Waterworks and more).
Wendy and James first met during their tenure as managing partner and pastry chef, respectively, at the popular Philadelphia restaurant, White Dog Café. They developed Metropolitan by drawing on nearly two decades of combined culinary experience—Barrett's at the Culinary Institute of America, and Born's almost nine years at the White Dog Café and her work with the hunger relief organization Share Our Strength.
Metropolitan believes in businesses working to combat hunger and poverty, and as such, donates bread to shelters every week; employs and trains recent parolees; mentors at-risk high school students; and is a co-sponsor of the new H.O.M.E. Page Café in the Philadelphia Free Library. In addition, the majority of products sold in the stores (cheeses, coffees, spreads, etc.) are made by small producers trying to preserve artisan techniques and traditions. The 19th street store is also a pick-up location for two C.S.A.s. This blend of two worlds—the art of old-world bread baking and a commitment to their community—is the core of Metropolitan's business philosophy.
Unique in flavor and quality, Metropolitan's breads use unbleached flours, whole grains, and all-natural ingredients. Rather than using commercial yeast, which can mask the true flavor of a bread, Metropolitan uses natural yeast (called a starter) produced from fermenting figs and berries. The breads also enjoy a long-slow-cool fermentation process, which ensures more flavor, better texture and a longer shelf life. Each loaf is then pounded and shaped by hand, allowed to rise slowly in willow baskets dusted with rye flour, and baked in Bongard ovens.
Metropolitan's French baguettes, pain au levain, organic country miche, chocolate cherry, whole wheat, and olive thyme breads—plus their millet muffins and almond croissants—are Philadelphia traditions. And their French berry rolls (enriched with wheat germ, but with no fat or added sugar) are winning back carbohydrate-phobes everywhere. Recently the company opened an online shop, shipping their breads, granola (recently named best in the country by Epicurious.com) and new flavored popcorns nationwide.
Chef James Barrett is a native of Philadelphia who lives in a West Philadelphia brownstone. He is in the bakery six days a week, but makes time to teach baking and appear on PBS's A Chef 's Kitchen. New York native Wendy Born is married with three children, and is a long-time resident of Rittenhouse Square.