Need a gift for that special someone that's both thoughtful AND convenient? We're now offering a variety of wine themed gift boxes that combine an assortment of delicious specialty foods, kitchen items and, of course, wine selections unavailable in Pennsylvania's state stores.
Gift boxes may be reserved in person at CORK, reserved online or by phone (215.735.2665). Boxes will be available for pickup in December, but if you need them by a specific date, we're happy to make special arrangements.
Additional theme boxes will be added periodically as our inventory rotates, so check back for additional gift ideas. In the meantime, the following are now available for reservation.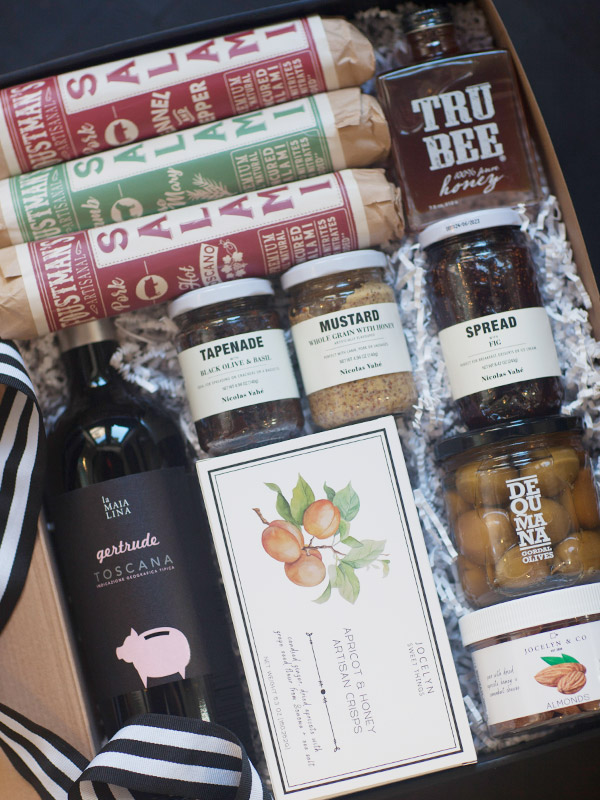 ULTIMATE CORK CHARCUTERIE BOX $210
La Maialina Gertrude Super Toscana
Nicolas Vahé Fig Spread
Nicolas Vahé Black Olive & Basil Tapenade
Nicolas Vahé Whole Grain Mustard
TruBee Honey
Dequmana Gordal Olives
Jocelyn & Co. Almonds
Jocelyn & Co. Apricot-Honey Crisps
Foustman Rosemary Lamb Salami
Foustman Fennel & Pepper Salami
Foustman Hot Toscano Salami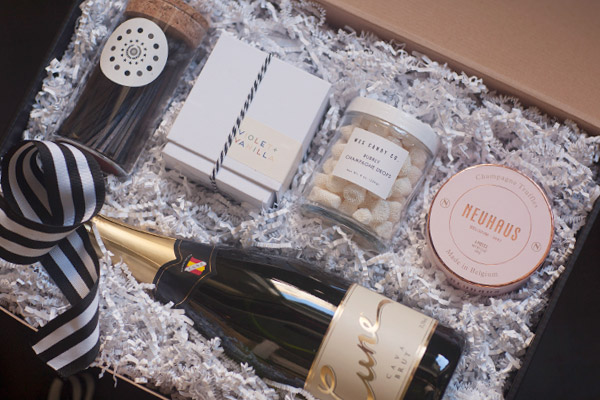 BUBBLES $140
Cune Brut Cava
Paddywax Vanilla + Violet Candle
Heaven in Earth Matches
Wes Candy Co. Bubbly Champagne Drops
Neuhaus Champagne Truffles
THINK PINK $145
Ameztoi Rubentis Rosado Txakolina
Savon de Marseilles Wild Rose Hand Soap Pump
Compagnie de Provence Hand Cream
Paddywax Rose + Sandalwood Candle
Vinoos Rosé Gummies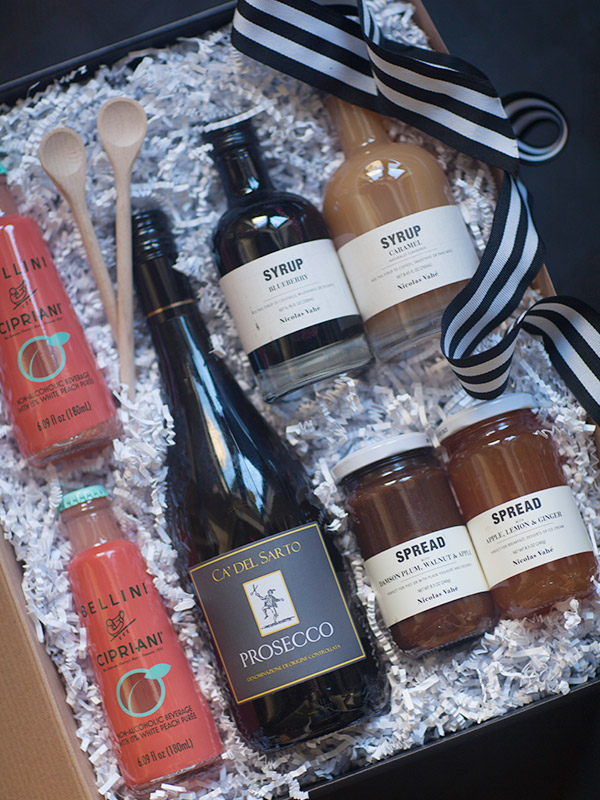 BREAKFAST BOX $115
Nicolas Vahé Blueberry Syrup
Nicolas Vahé Coffee Caramel Syrup
Nicolas Vahé Damson Plum-Walnut Jam
Nicolas Vahé Apple-Ginger-Lemon Jam
Ca Del Sarto Prosecco
2 Cipriani White Peach Bellini Bottles
2 Condiment Spoons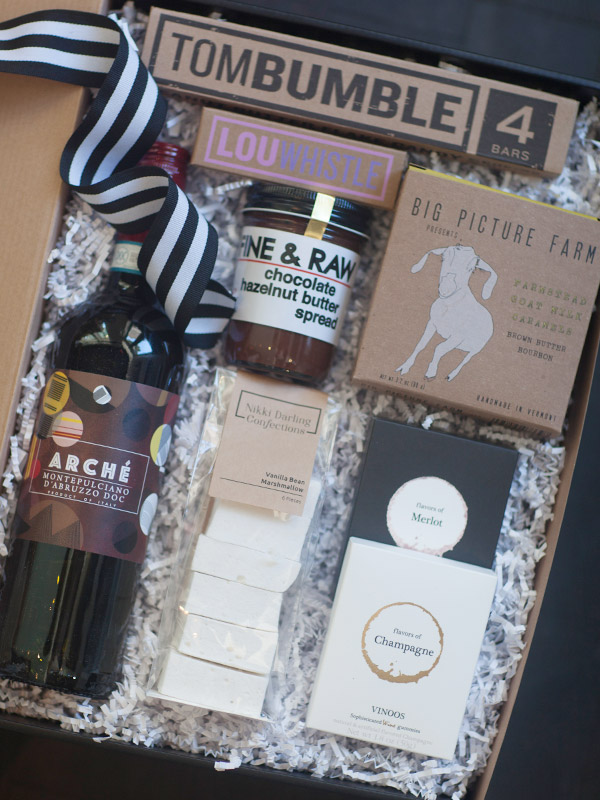 WINTER INDULGENCE $115
Arche Montepulciano d'Abruzzo
Nikki Darling Vanilla Bean Marshmallows
Fine + Raw Chocolate Hazelnut Spread
Oregon Bark TomBumble Flake Peanut Butter Candy
Lou Whistle Chocolate Molasses Pecan Chew
Big Picture Farm Brown Butter Bourbon Goat Milk Caramels
Vinoos Merlot Gummies
Vinoos Champagne Gummies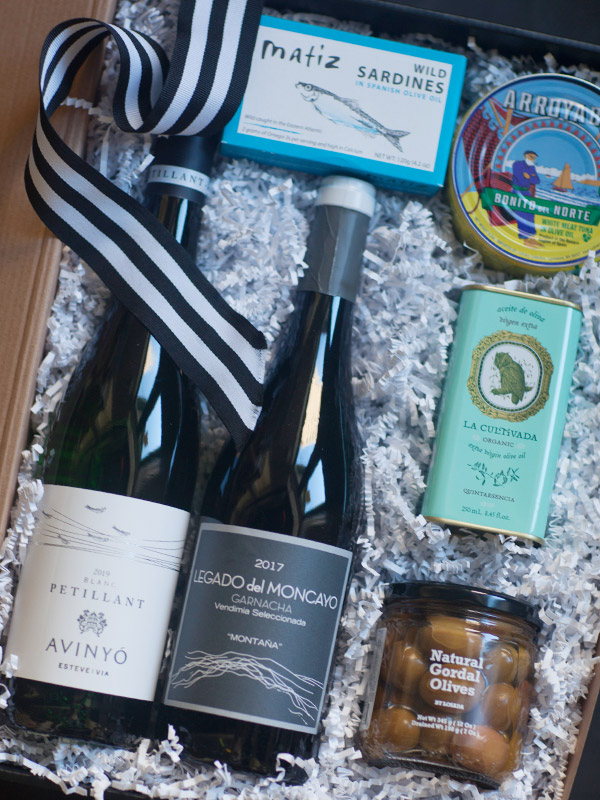 A TASTE OF SPAIN $130
Avinyo Petillant Blanc
Moncayo Garnacha
Matiz Wild Sardines in Olive Oil
Arroyabe White Tuna in Olive Oil
Dequmana Gordal Olives
La Cultivada Organic Spanish Olive Oil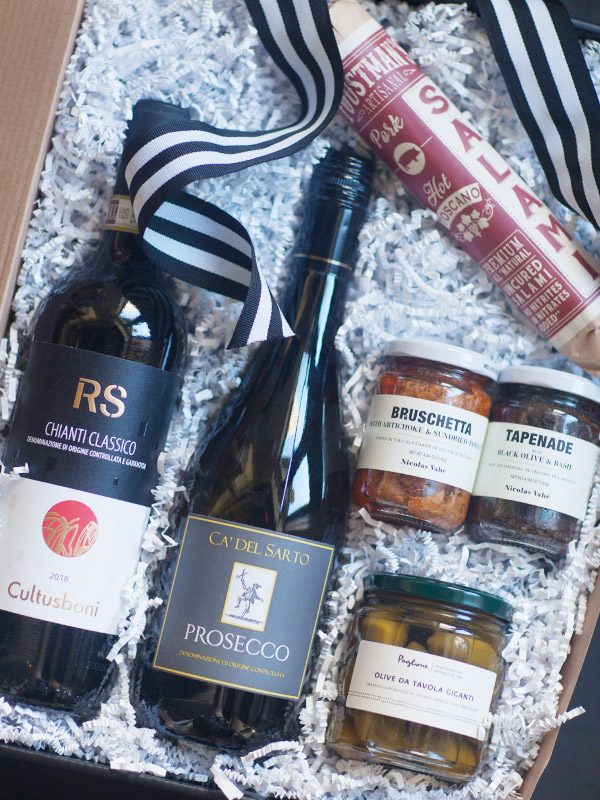 A TASTE OF ITALY $140
Foustman Hot Toscana Salami
Nicolas Vahé Bruschetta
Nicolas Vahé Black Olive-Basil Tapenade
Badia a Coltibuono Chianti Classico
Ca del Sarto Prosecco
Paglione Tavola Giganti Olives