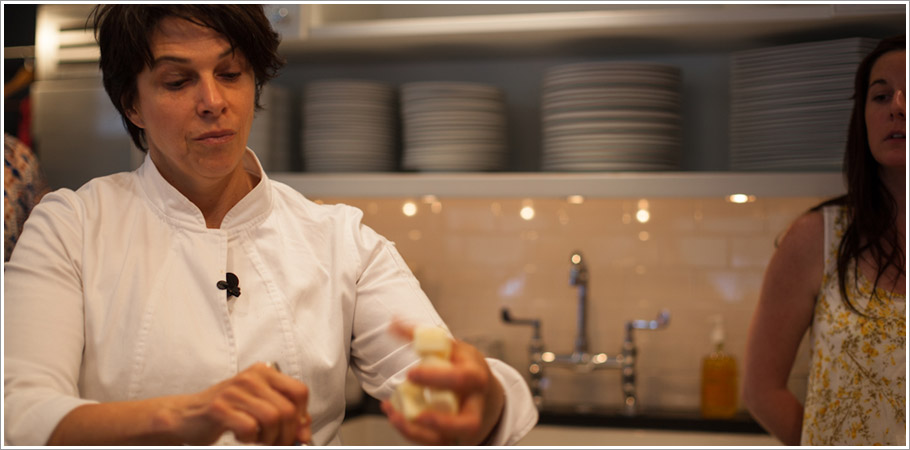 BARBARA LYNCH
Author of "Stir" and Celebrated Boston Restaurateur
James Beard Award-winner Barbara Lynch is regarded as one of Boston's, and the country's, leading chefs and restaurateurs. While growing up in South Boston, Barbara, at the age of 13, got her first kitchen job cooking at a local rectory. It was in high school, however, that an influential home economics teacher and a job working with Chef Mario Bonello at Boston's esteemed St. Botolph Club piqued her interest in one day becoming a professional chef. During her early twenties, Barbara worked under some of Boston's greatest culinary talents including Chef Todd English, first at Michaela's then at Olives and later Figs. After working with Todd for several years, Barbara traveled to Italy where she learned about Italian cuisine firsthand from local women. She returned to Boston and became the executive chef at Galleria Italiana, bringing national acclaim to the tiny trattoria when she captured Food & Wine's "Ten Best New Chefs in America" award.
In 1998, Barbara opened a restaurant of her own, No. 9 Park, in Boston's Beacon Hill neighborhood. The restaurant immediately received rave reviews from publications around the country and was named one of the "Top 25 New Restaurants in America" by Bon Appétit and "Best New Restaurant" by Food & Wine.
Barbara expanded her presence in Boston by opening two restaurants in the South End in 2003: B&G Oysters, serving exquisitely fresh oysters and New England classics, and The Butcher Shop, a wine bar and full service butcher shop. Barbara continued to grow by opening three unique concepts in succession: In 2005, Niche Catour, a catering company; Plum Produce in September 2006, and next door, Stir, a demonstration kitchen and cookbook store in 2007.