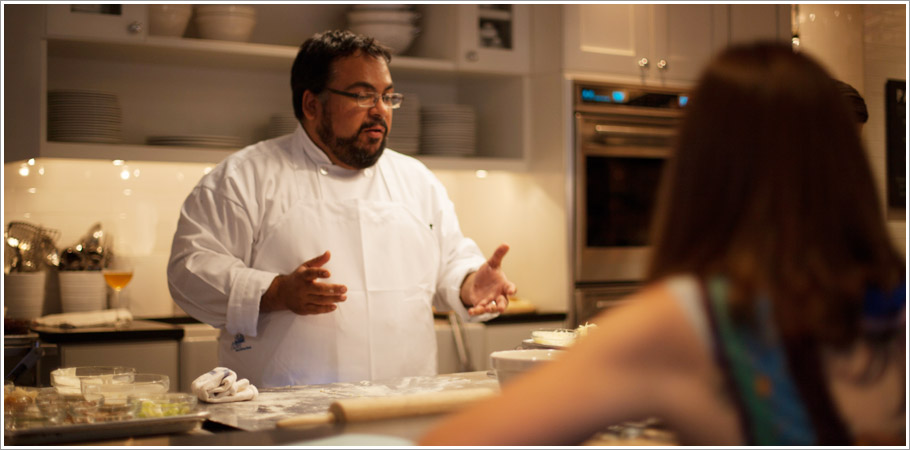 BRIAN LOFINK
Executive Chef,
The Sidecar Bar & Grille
,
Kraftwork
and
Kermit's Bake Shoppe
Philadelphia's own Chef Brian Lofink didn't grow up eating the same foods that most other American kids ate. Since his mother was born in Mauritius, an island near Madagascar, she often served Indian inspired dishes, while his father's French-Alsatian background meant Lofink was also exposed to a variety of sausages, sauerkraut and spaetzle. He credits this eclectic food background for the reason he decided to become a chef.
Now the executive chef at the Sidecar Bar, located at 22nd St. and Christian St., Fishtown's Kraftwork, located at 541 East Girard Ave., and Kermit's Bake Shoppe, located 2204 Washington Ave., Chef Lofink has a wealth of high-end restaurant experience. After graduating from Drexel's culinary arts program, he spent nearly five years working at Philadelphia's once notorious Brasserie Perrier under Chef Chris Scarduzio. "Chris was the best cook I ever worked under and a really good teacher," Lofink says. It was there that he learned to work in a high-pressure kitchen and learned to execute top quality French, Italian and Asian fusion cuisines.
He later went to work at Matyson, a BYOB located in Center City, under Chef Matt Spector. While there, Lofink says he learned a calmer way to manage a kitchen. "Matt taught me how to trust in my ability and how to create. He taught me to be chef," he says. When Chef Spector left the city in 2007 for Napa Valley, Lofink co-ran Matyson's kitchen with Chef Ben Puchowitz.
Looking for the opportunity to run his own show, Lofink met with Sidecar owner, Adam Ritter. He says he was impressed with Ritter's vision and that cooking at a neighborhood bar known for its great beer selection gave him a chance to "throw-down" with the menu. Lofink's menus over the years have featured signatures such as "the app formerly known as…" (crab fries) and creamy mushroom polenta, plus tongue-in-cheek dishes like "clam chowder gnocchi," which was recently featured on an episode of Diners, Drive-ins and Dives with Guy Fieri.
In 2010, Lofink began working double-time, taking over as chef at Ritter's second restaurant Kraftwork. Here foodies will enjoy a menu of house made bratwurst wrapped in pastry and custom-made sandwiches like beer can chicken and French onion short rib.
In 2013, Lofink took over the kitchen at Ritter's third restaurant, Kermit's Bake Shoppe, named after the famous New Orleans jazz musician, Kermit Ruffins. Here Lofink executes his playful spin on classic pizzeria items like "The Kerminator", a pizza that's topped with apple wood smoked ham, gruyere and mozzarella cheese, caramelized onions, choucroute and finished with chives.
Currently, Lofink lives in East Falls with his wife and cat. Their first son was born in September 2014.