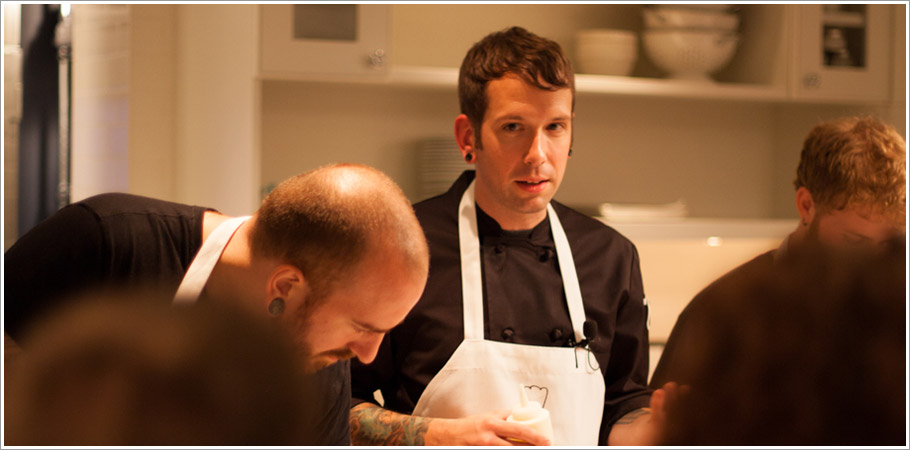 GEORGE SABATINO
Chef George Sabatino started cooking in Philadelphia over eight years ago. He spent time in the kitchen at Fork, Monk's Cafe & Ansill before landing on 13th Street. Sabatino was mentored by Chef Marcie Turney first at Lolita, her modern Mexican restaurant. Over the years he also opened Bindi, a 3-Bell Indian kitchen and Barbuzzo, James Beard nominated for Best New Restaurant.
Sabatino undertook his first Executive Chef position at Stateside on East Passyunk Avenue. George and his hand-picked crew helped revitalize a great neighborhood that is in the midst of a restaurant rebirth. Sabatino's menu at Stateside was comprised mostly of small plates with plenty of house made charcuterie, artisinal cheeses, and contemporary American flavors. Chef Sabatino sourced his completely domestic menu with the help of over 25 different local farms, co-ops, and sustainable fisheries to ensure the freshest and highest quality ingredients. Highlights from his Stateside menu included the rabbit rillettes with pear preserve, house made duck sausage with cranberry mustard, and maple glazed pork belly over cheddar grits.
George left Stateside in early 2013 to spend his summer running the kitchen at Morgan's Pier where he created a refined foodie picnic menu with fresh seafood snacks, creative bar bites, seasonal and locally-sourced veggie dishes and a variety of sammies.
In 2012 Sabatino was selected as Best of Philly® Chef in Philadelphia magazine. Sabatino also took home the gold at Ommegang Brewery's Hop Chef Competition.