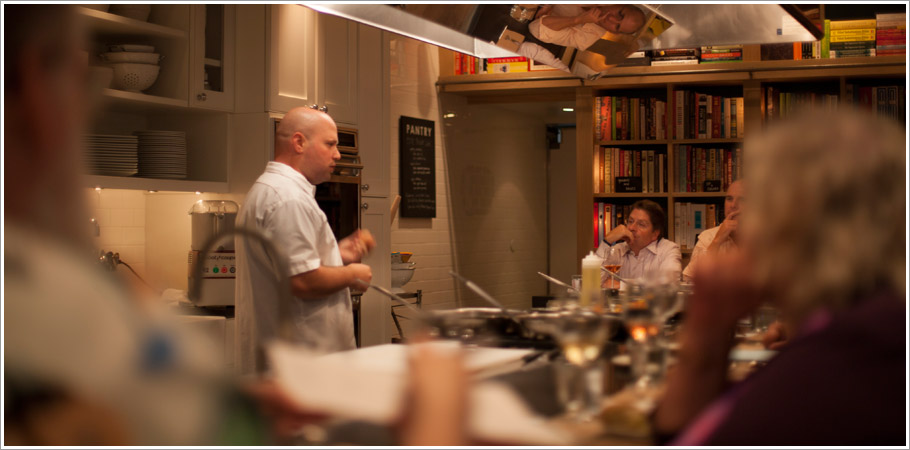 JAY CHADWICK
Chef,
Ella's American Bistro
On a professional level, Jay started his culinary training at 19 when he began his apprenticeship as a butcher. However, his roots in the culinary arts grow much deeper than this. His family's traditions are his primary influence in the kitchen. From a young age, Jay was exposed to and taught the value of using the freshest and highest quality ingredients in every meal. His family planted and tended their own gardens together, and raised and butchered their own meat. Generations after his mother's ancestors migrated here from Abruzzo, Italy, the Chadwick family still maintains the influence of that wild and independent region in their family meals.
After completing his butchering apprenticeship, his passion for great food led him from the meat locker into the kitchen. After paying his dues in multiple kitchens, he was fortunate enough to get the position of Saucier at Georges Perrier's Suburban outpost Georges'. Within six months, he was promoted to Sous Chef, and held that position for a year.
After working as a Sous Chef in several other restaurants in the Philadelphia region, Jay stepped out of the restaurant kitchen for a time to work as a Private Chef, specializing in multi-course tasting menus. He was also able to study for and receive his Introductory Sommelier Certification from the Court of Master Sommeliers. He traveled throughout America, immersing into the various cuisines and wine growing areas of the country. He also travelled to the Abruzzo region of Italy for a month to work at Elodia, one of the most respected restaurants in the region.
Upon returning to the U.S., he worked for a year at renowned restaurant Le Virtu in Philadelphia as Chef Tournant. He followed this with a stint at Chef Jose Garces' restaurant J.G. Domestic. When the Sous Chef position at the acclaimed Restaurant Alba in Malvern, PA became available, Jay was chosen for the position. His two years at Alba were a fertile ground where Jay honed his cooking, managing, and wine pairing skills while learning about locally sourced, seasonal ingredients.
Jay maintains a clear vision of what he wants to share with others through his food. His cuisine showcases both the knowledge he has gained from his travels and experience, as well as the restraint and focus that is exercised by any true artist. Above all, he is not afraid of hard work, and every plate he serves communicates the joy he finds in his craft.