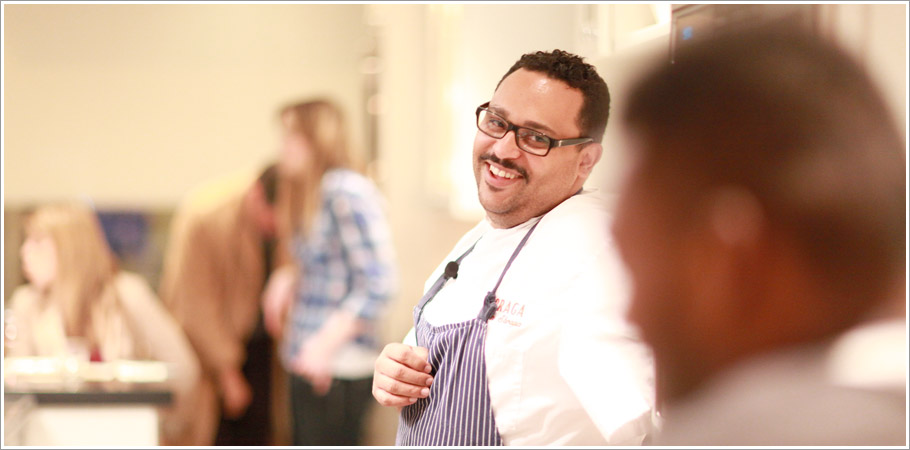 KEVIN SBRAGA
Chef-Owner,
Sbraga
and
The Fat Ham
"Make things happen."
That's the mantra that celebrated Chef Kevin Sbraga reminds himself of daily to keep his focus on why he works in the competitive culinary world and what he wants to achieve. "I've always made goals for myself," says the chef and owner of the modern American restaurant Sbraga, Southern-inspired The Fat Ham, and the forthcoming Juniper Commons in Philadelphia, and winner of Bravo TV's "Top Chef: Season 7." "I put myself in positions that give me room to grow. I'm not one to sit around and wait, so I make things happen on my own."
In 2008, Sbraga—who had previously held positions in Atlanta and Philly kitchens—applied that philosophy to his consulting work with Jose Garces to test recipes for the chef-proprietor's Latin Evolution cookbook. Sbraga impressed Garces with his dedication, which ultimately earned him a full-time role as culinary director of Garces Restaurant Group. Sbraga went on to win the award for Best Meat Presentation in the Bocuse d'Or USA culinary competition in fall 2008, which he fondly remembers as "one of the toughest meals I've ever created," before working as executive chef for Stephen Starr at Rat's Restaurant at the Grounds for Sculpture, an arboretum in Hamilton, NJ.
In 2010, Sbraga relished the opportunity to join the cast of the popular TV show "Top Chef." In between the taping of the regular season and the final episode, Sbraga experienced a moment of clarity. "I realized I needed to do my own thing," he says. "Even though I hadn't won yet, I felt like I had because I the found the confidence I needed to open my own restaurant."
Sbraga launched his eponymous restaurant in October 2011, which has since been named an Esquire "Best New Restaurant" in 2012 and one of Philadelphia magazine's "Best Restaurants of 2013." With menus that focus on pairing the highest quality ingredients available with the perfect beverages, Sbraga restaurant delights its guests with an ever-changing array of flavorful courses. "I learned on 'Top Chef' that you can't always play by the rules, and no matter what, you've got to cook from the heart and cook what's good," he says. "That's what I'm applying at Sbraga and The Fat Ham, what I plan to do at Juniper Commons and any future project."
Sbraga's second venture, The Fat Ham, opened in December 2013 in the University City neighborhood of Philadelphia with the same standards of quality but a more relaxed and casual vibe than his first restaurant. The chef dedicated a year to planning the rustic yet refined Southern look and feel of the Fat Ham, and designed a menu that highlights pork and authentic Southern ingredients.
Research for the restaurant included a four-day immersion at Niman Ranch in Des Moines, IA and the Paul Willis Dream Farm, as well as a ten day road trip across the South with The Fat Ham team that included Nashville, Birmingham, Atlanta, Savannah, and Charleston. "Growing up one of my favorite dinner nights was when we had collard greens, ham, cornbread, and macaroni and cheese on the table," Sbraga says. "It was exciting for me to take those dishes from my childhood, as well as ones that I tried during our road trip, and put my own twist on them at The Fat Ham."
The Johnson & Wales University, Miami, graduate has two children, Jenae and Angelo, and lives in Philadelphia, just 20 minutes away from his hometown of Willingboro, NJ.