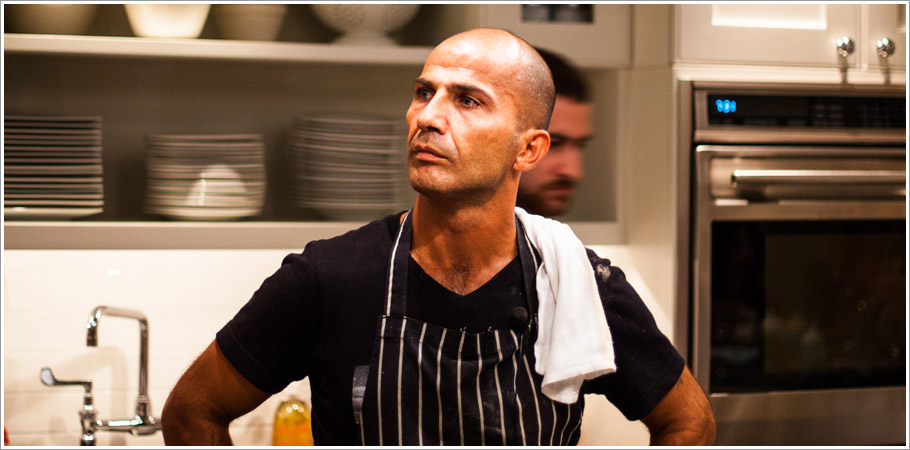 KONSTANTINOS PITSILLIDES
Chef-Owner,
Kanella
Konstantinos Pitsillides was born in Limassol, Cyprus – a coastal city that sits aside the Mediterranean Sea. He grew up in the sea, playing soccer, climbing fruit, olive and nut trees in the land surrounding his grandmother's farm. Hailing from a family of butchers, farmers and leather makers, it was no surprise when after his obligatory two year army stint he flew to the United Kingdom to start his first degree in Tannery and Chemical Engineering.
It was after completing the course that Pitsillides realized his heart wasn't in the family leather making business, and while taking a course in Hotel Management in London, England he discovered his interest lay in his cooking classes. He began to intern at the Michelin starred CHEZ NICO under legendary chef/owner Nico Ladenis, who became a mentor to Pitsillides. Ladenis would help lay the foundation of what would becomre Pitsillides whole culinary point of view, teaching him the virtues of passion and smplicity backed by knowledge and skill.
Konstantinos would spend the following years learning and working under many notable London chefs such as Pierre Koffman at the 3 Michelin star rated La Tante Claire and Connaught Hotel then run by Michel Bordan, until he found himself at last ready to take over a park café of his own, and it was here that Konstantinos was able to experiment with what he had learned thus far mastering classic café fare in the day time and in an unusual move for park café, opening in the evening to serve an al a carte menu that changed daily. It was during the café's very successful five year run that Konstantinos developed a philosophy that good food should not mean high prices and everyone should be able to eat well.
The events leading to bringing Pitsillides to America began with his meeting Philadelphia native Caroline Christian, with whom he would return to Cyprus and marry in the village of his grandmother. Together their paths would lead them to Philadelphia where Konstatinos worked at many notable local restaurants, such as Zesty's, Bistro Saint Tropez, Patou, and most notably MEZE. Immediately he changed the menu and gaining many local fans, such as Philadelphia Inquirer food critic Craig LaBan who said then, "… Pitsillides is from Cyprus… And cinnamon floats gracefully through his kitchen at Meze in Bella vista like a thread of Byzantine silk, weaving its way through the soulful stews and homemade sausages like a vivid memory that is surprisingly earthy fragrance of home. These sophisticated takes on traditional Greek and Cypriot cuisine represent some of the most exciting new flavors I've discovered in South Philadelphia in some time. The September arrival of Pitsillides not only brought considerably lower prices, it also gave testimony that tradition-bound cooking can be served with contemporary elegance."
These words were reflective of what was to come, Pitsillides would move on and in March of 2008, along with his wife Caroline he would open KANELLA in Philadelphia.
They started with the desire to resurrect and represent the traditional cooking of Konstantinos' home country. Cyprus is a country with a rich complex history and a dynamic location in the eastern part of the Mediterranean Sea. The island has been invaded many times through out history and each invasion brought another layer to the native cuisine, so at KANELLA you will taste Greek food with a hint of Turkey, France, Italy, England and the Middle East.
On the menu you will find both the earthiness of Konstantions' childhood and the refinement that comes from classic French training. At KANELLA everything is homemade from the breads whose flavour change daily (cumin, bay leaf, and toasted caraway are just a few of the spices used) to the ice creams. Intensity of flavour,freshness and consistent quality of service and food are all found at this charming little BYOB on the corner of 10th and Spruce.