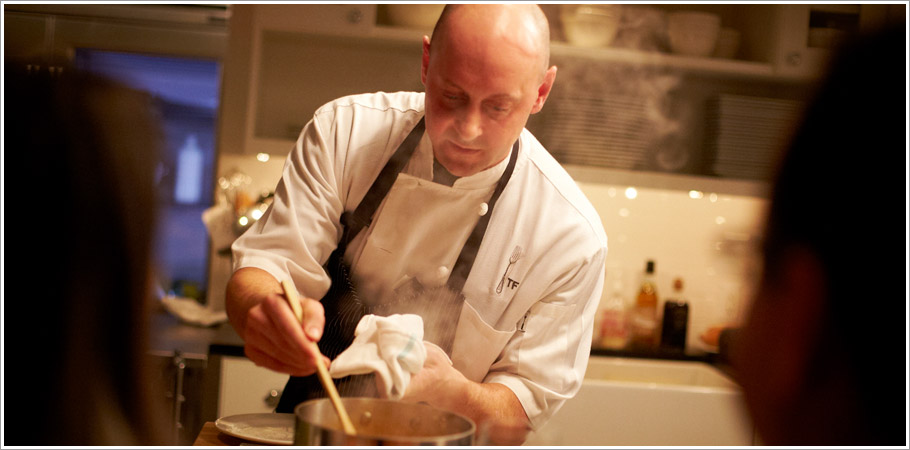 TERENCE FEURY
Chef-Owner,
TAVRO 13
One of the East Coast's culinary pioneers, Terence has been named one of Philadelphia's brightest culinary stars. Rooted in classic training and skillful technique, he has the ability to combine ingredients in a way that is exciting and delicious. The menu showcases the chef's deft hand with all that is aquatic. Chef Feury possesses an incredible pedigree. His professional path has taken him through some of the nation's top kitchens, including NYC's Le Bernardin (whose sterling national standing includes a long history of four-star ratings from The New York Times and a maximum three stars from the Michelin Guide). Feury parlayed what he learned at Le Bernardin to earn critical acclaim for his expertise with seafood at Philadelphia's Striped Bass, another nationally renowned seafood destination. He continued his culinary pursuit at the Ritz-Carlton in Washington, D.C. before returning home to Philadelphia to helm the kitchen at Fork, an American Bistro in Philadelphia. In 2012 Feury left Fork to work on his exciting new restaurant project in Swedesboro, NJ, TAVRO 13.
Chef Feury's talents have earned him countless accolades:
• "Best Chef in 2010" by Philadelphia Magazine
• "Rising Star Chef, 2000" by Restaurant Hospitality
• 2004 Star Chefs Award for Rising Star Chef.
• James Beard Award nomination for Best Chef MidAtlantic, 2002
• The Philadelphia Inquirer Restaurant Critic Craig LaBan dubbed him "One of the city's finest chefs."