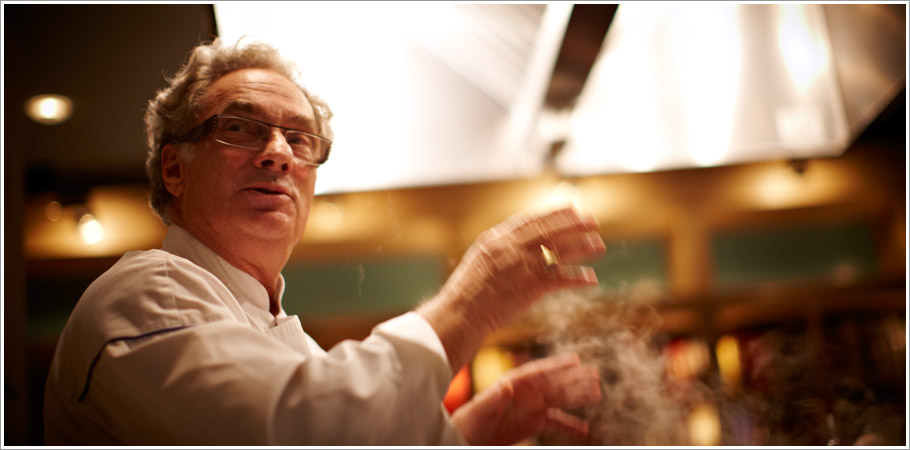 GEORGES PERRIER
Originally from Lyon, France, a city world-renowned for its culinary arts, Chef Perrier began his accomplished culinary career at age fourteen. He trained with the great chefs at some of the finest restaurants of France including Michel Lorrain of Casino de Charbonnières near Lyon, Jacques Picard of L'Oustau de Baumanière in Provence, and Guy Thivard at La Pyramide in Vienne, owned by the legendary Ferdinand Point.
Chef Perrier arrived in Philadelphia in 1967 as Head Chef for Peter von Starck's La Panetière. Three years later, Perrier opened his own restaurant at 1312 Spruce Street. He named the restaurant "Le Bec-Fin," a French idiom for "the good taste." The small restaurant quickly became a Philadelphia institution. The restaurateur refused invitations to relocate to Manhattan, Los Angeles and Chicago, opting instead to pave the way for Philadelphia's restaurant renaissance. Visitors to the city considered Le Bec-Fin an essential stop, and regular patrons travel from New York and Washington D.C. for a single meal.
In 1976, Chef Perrier was inducted into the Maîtres Cuisiniers de France, the premier international society of French chefs. Its 200 members include the finest French chefs in the world. In 1989, those members voted Perrier "Chef of the Year" and awarded him with the Silver Toque, the most coveted trophy in the world of haute cuisine. In 2005, French Senator Jean Besson bestowed the status of Knight in the National Order of Merit from the Republic of France.
In 1983, Chef Perrier acquired an historic art deco building at 1523 Walnut Street out of which he created one of the country's most elegant restaurants. The new location enabled Le Bec-Fin to add a private banquet room and an intimate downstairs bar and bistro, Le Bar Lyonnais. With the opening of Le Bar Lyonnais in November 1990, Chef Perrier completed the restaurant, thereby fulfilling his lifelong dream.
During its forty years in operation, Le Bec-Fin and Chef Perrier received the highest accolades in the hospitality industry. Le Bec-Fin was the only Philadelphia dining establishment to receive the five-star rating from the Mobil Travel Guide for a total of twenty-three years in a row. In 1994, readers of Condé Nast Traveler magazine chose Le Bec-Fin as the #1 restaurant in the country. The restaurant also garnered top honors in prestigious publications such as Gourmet, Food & Wine, Esquire and Wine Spectator magazines.
In 1998, Chef Perrier was honored by America's leading culinary organization when he was awarded Best Mid-Atlantic Chef by the James Beard Foundation. Chef Perrier has also received many awards for his work with various charities including SCAN (Stop Child Abuse Now), Amyotrophic Lateral Sclerosis (ALS) Association, the Breast Health Institute and the Arthur Ashe Tennis Foundation.
Chef Perrier's first book, Georges Perrier Le Bec-Fin Recipes, was published in 1997 and contains more than 100 recipes, featuring both the inspired haute cuisine of Le Bec-Fin, as well as the casual bistro fare served in Le Bar Lyonnais.
USA Today once rewarded the restaurant as one of the 10 best French restaurants in the country.
In 2009, Chef Perrier was in Paris, France to receive the highest French honor bestowed on a person which distinguished themselves through civilian or military valor, the Legion d'Honneur. This medal was presented by his good friend and countryman, Monsieur Guy Savoy, Grand Officer of the Legion and master of haute cuisine. In 2010, Chef Perrier received the Academiciens de l'Annee, the high honor presented by the Academie Culinaire de France.
Chef Perrier remains a visible and valuable presence in the Philadelphia restaurant community – as both a mentor to and collaborator with a new generation of chefs.