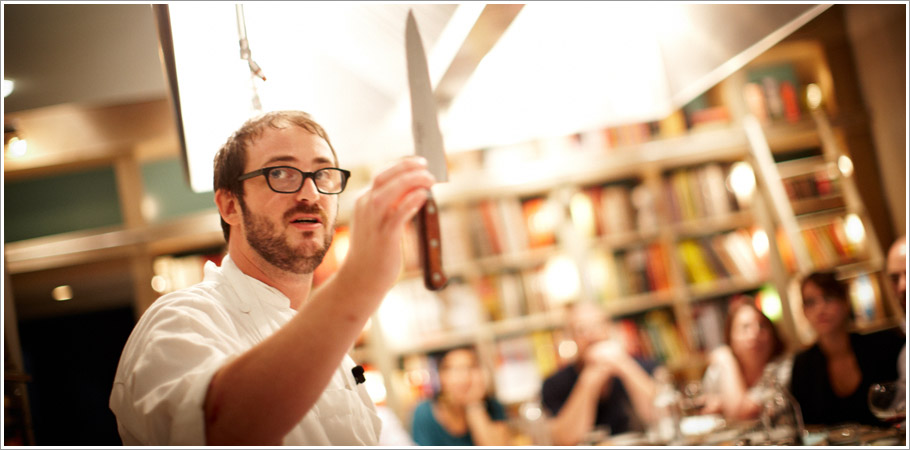 PETER WOOLSEY
Founder & Proprietor,
Bistrot La Minette
; Executive Chef & Owner,
La Peg
As an adolescent, Peter Woolsey started cooking breakfast foods and pasta sauces by his father's side. On a whim, he decided to attend Johnson and Wales for the culinary arts and immediately fell in love with cooking as a profession.
In the late 1990s, he began his professional career cooking at the Sun Valley Resort and New York's Waldorf-Astoria. In 2000, Peter moved to France to study pastry at Le Cordon Bleu. In Paris, Peter worked for the world famous three-star Michelin restaurant, Lucas Carton, under Alain Senderens and Frederic Robert. In 2002, he moved back to Philadelphia working at Georges Perrier's Le Mas Perrier before heading to the renowned Striped Bass under Alfred Portale and Chris Lee.
In 2008, Peter opened Bistrot La Minette, only five months after the birth of his son, Jules. Six years and many accolades later, Bistrot La Minette has flourished allowing Peter to begin work on his next venture: La Peg.
La Peg is a contemporary brasserie located inside the FringeArts building in Old City Philadelphia across from the Race Street Pier. The dining room is dramatic with 45-foot ceilings with large windows to match that give every diner incredible views of the Benjamin Franklin Bridge. Designed by Groundswell Design, the industrial interior pays homage to the building's history as a high-pressure pump station for the Philadelphia fire department. The food is casual French inspired small plates with options for the curious as well as the non-adventurous.
Peter is married to French native, Peggy Baud-Woolsey and has two small children.