The most indispensable ingredient of all good home cooking: love for those you cook for.  – Sophia Loren
She's Italian, so she must be right. Right? Ask Sarit Packer and Itamar Srulovich and they just might agree. The London-based couple has not only produced many a meal for countless guests at their three eateries but also share the kitchen at home when time permits. It is here that the love permeates to each other and to friends in a variety of dishes that range in scope. This affection for home cooking and sharing with others is the spirit behind Honey & Co. At Home, the pair's fourth published book. We were happy to connect with them and set up a class during their Stateside promotional tour. 
Upon migrating to the UK, the culinary duo made names for themselves in some of London's most esteemed restaurants before opening Honey & Co. in 2012. There they highlight traditional home-cooked items from their homeland, Israel. Soon to follow were Honey & Spice, a small pantry with a select group of books for sale, and Honey & Smoke, a restaurant that revolves around their Mediterranean grill fare. Even though they spend a significant amount of time in their commercial kitchens, they still try to find time to produce meals at home – sometimes to hilarious results as outlined in their book.
Busy schedules sometimes predicate how we prepare food for ourselves. This fact was front and center in their first offering of the night: goat cheese and harissa buns. These baked croquettes are simple to make and the perfect snack for a late night or entertaining friends. After combining and tempering the mixture of goat cheese, room temperature butter, harissa, flour, and yeast, one can make the buns immediately or cool for later use.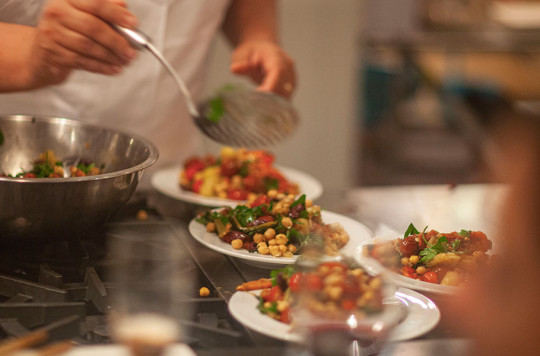 Middle Eastern and Mediterranean cuisines often share recipes albeit with different names, kind of like aioli and mayo can be interchangeable depending on who you're speaking to. So to roast eggplants and mix the charred vegetable with herbs, one might call it baba ganoush. However, Itamar labeled it silky aubergine dip, and it was served along with chickpeas, roasted red peppers, kalamata olives, roasted tomatoes and cumin. No dipping situation is complete without a vessel for the deliciousness. In this case, guests were treated to sweet sesame rolls.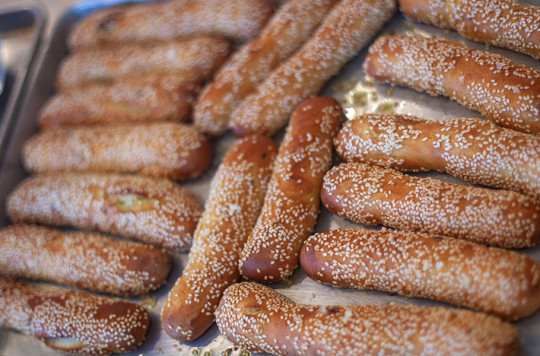 With figs in season, the chefs incorporated them into the roasted lamb chop course with an onion and walnut marmalade to serve. Looking for a little bit of bitterness to balance the dish, Sarit and Itamar laid out a bed of rocket (that's Anglo for arugula) over grilled flatbread.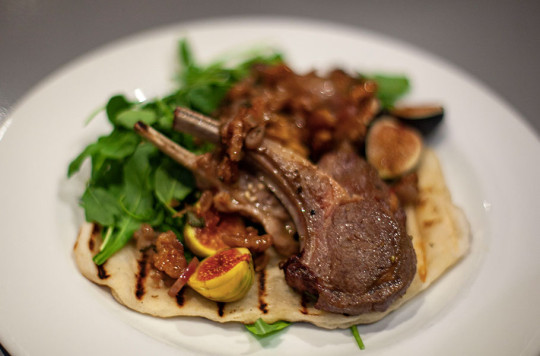 Tahini is usually associated with hummus, but it has many other applications. For instance, we enjoyed it as a substitute for peanut butter in this wonderfully light cake finished with a lemon and white chocolate icing.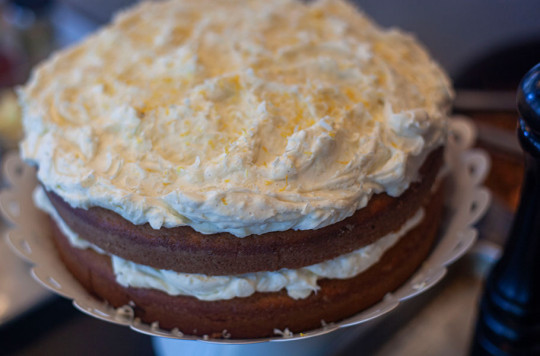 For more recipes and insights into their Honey & Co. world, stop by COOK to pick up your own copy of Honey & Co. At Home!
Back to Blog