Happy New Year! With the new year comes resolutions and the idea of a fresh start. Many people make plans to eat healthier, become more organized, and gain a fresh perspective. So why not freshen up your kitchen and get cracking down on some healthy cooking? Check out COOK's retail goods that will not only add new life to your kitchen, but get it looking and smelling clean for the New Year! Read on for cookbook recommendations, and check out our boutique products that will spruce up your cooking space.
Paddywax Candles
"That candle in the bathroom is amazing, I'm buying it for our house!" – COOK guest.  Just about every other class that we have at COOK, I hear this at the end of the dinner. Once enveloped by the aroma of one of our candles you are hooked. Housed in recycled wine bottles, these eco-friendly candles are made from soy wax for a longer and cleaner burn. From Pomegranate Currant to the crowd favorite Bamboo Green Tea, the candles give off herbaceous and fruity smells that will make any room of yours feel like a spa. Pictured above are two candles that I would recommend for the current winter season. Thyme Olive Leaf is the most intense scent of our Paddywax candle collection. It has a strong and spicy profile with grassy tones, which will certainly cut through any unpleasant odors. Verbena Lemongrass is quite the opposite as it is light, lemony and smells like summer. So if you want to fill your house with uplifting and refreshing aromas to trick yourself into thinking its warm outside, this is the perfect candle for you!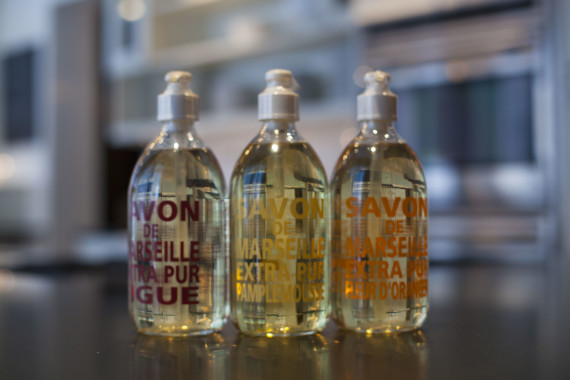 Compagnie de Provence Soaps
According to Rich Freedman, Chef de Cuisine at The Olde Bar and a regular chef at COOK: we have the best soaps in the city. These French soaps come in a variety of scents including fig, grapefruit, orange blossom, wild rose, fresh verbena, and more! If you're feeling down from the frigid snowy weather, grab a bottle of Mediterranean Sea soap to leave your hands with the fragrance of the salty Mediterranean sea breeze. Made with vegetable oil from Provence, these French-crafted hand soaps are gentle on your skin making them trusted sink companions. The eye-pleasing glass pump bottle will look great in any kitchen and is sure to knock off the smell of any food you have been handling.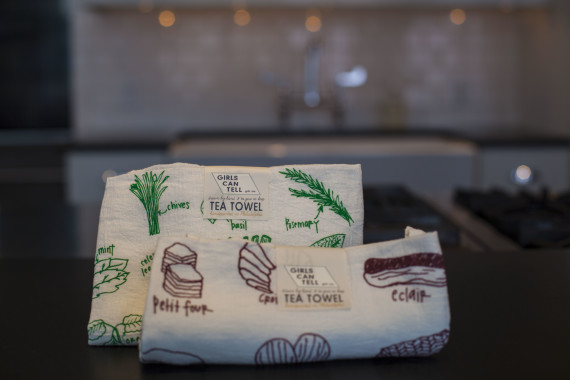 Girls Can Tell Tea Towels
Dry off those clean hands with soft tea towels from Girls Can Tell.  Hand-printed in Camden, NJ, Girls Can Tell tea towels are some local towels that you can get behind. Owner and designer, Sara Selepouchin has been making these artfully crafted towels for over ten years. The tea towels are adorned with beautiful illustrations of herbs, pastries, pots & pans, pastas and more. These towels will look great draped over your oven door handle and will add some fun and color to your kitchen. Made from 100% cotton, Girls Can Tell tea towels are machine washable. So wipe down those countertops and get cleaning!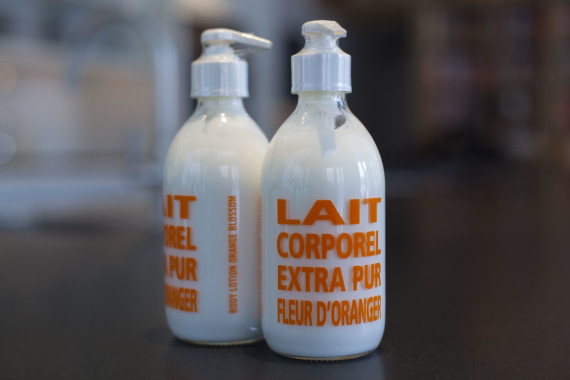 Compagnie de Provence Lotions
Its winter, and that means dry skin! Your hands need moisture, especially after cleaning, washing dishes and cooking dinner. So give your skin what it deserves: some luscious French lotion. Pair the body lotion with the savon de Marseille from the same French company, Compagnie de Provence, for the ultimate feeling of luxury. The vegetable oils in this body lotion quickly absorb through your skin to instantly give you hydration without that slick or sticky feeling. Sweet-smelling with the essence of orange blossoms, this body lotion is sure to make your skin smile.
Cookbooks
These titles are great for starting off your New Year. Meet your healthy eating and kitchen goals by learning fundamental cooking skills as well as clean eating tips.
The Wellness Project is a must have book for anyone with resolutions of eating healthier. After being diagnosed with Hashimoto's Thyroiditis, author and chef Phoebe Lapine chronicled her journey to eat cleaner to combat the disease. In 2015 she went through a year long effort to interview wellness chefs for their tips and advice. By incorporating one lifestyle change a month throughout that year, Phoebe was able to assemble a health conscious memoir. In addition to having fantastic clean eating advice, The Wellness Project also includes 22 recipes. The introductory chapter titled "Drunk In Love… With My Liver" may be just what you were looking for after those holiday and New Year's celebrations.
Salt Fat Acid Heat is a cooking novice's best friend. The book is full of gorgeous illustrations depicting anything from identifying root vegetables to how to make a caesar salad. As the title indicates the goal of Samin Nosrat's book is to guide people into being great chefs by mastering the four main elements of cooking. Once you have learned these basic elements you can experiment on your own. Samin states that perfecting the use of salt, fat, acid and heat are what made her a good cook, and will make you a good cook too. So grab a copy and make use of your newly furnished kitchen!
Come into COOK to get started on those New Year's resolutions! See for yourself how useful and aesthetically pleasing our pantry and library items are. If nothing in this post caught your eye we have many more retail goods that can revitalize your kitchen space, from salts and spices to cake stands and cutting boards. We are open for retail Tuesday through Sunday 12 – 5pm, unless class is in session.
Back to Blog