Yesterday, Yards Brewing Company opened their new brewpub and production facility at 5th & Spring Garden Streets. Doors opened at 6PM, and Philadelphians flocked to the craft beer heaven. We at COOK are so happy for our friends at Yards, plus we're excited to see Chef Jim Burke back in action, this time overseeing the culinary side of things at Yards.
When I arrived at 6:30PM, there was a line out the door wrapped around the side. During my wait, I admired the large size of Yards' new home, as well as their fermentation and aging towers which can be spotted a mile away.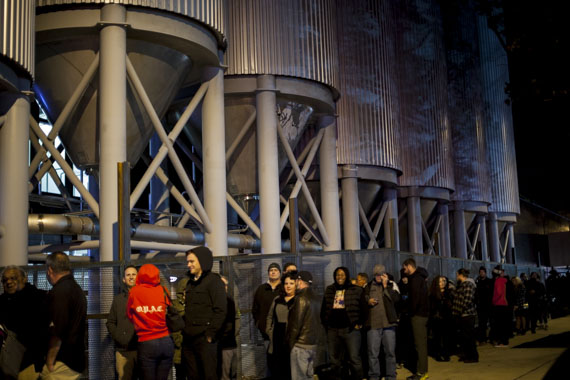 After 45 minutes of waiting outside on a cold and windy night, once inside I knew the wait was worth it. A beer equivalent of Willy Wonka's Chocolate Factory, the place is massive and features 20 taps and an extensive bottle list.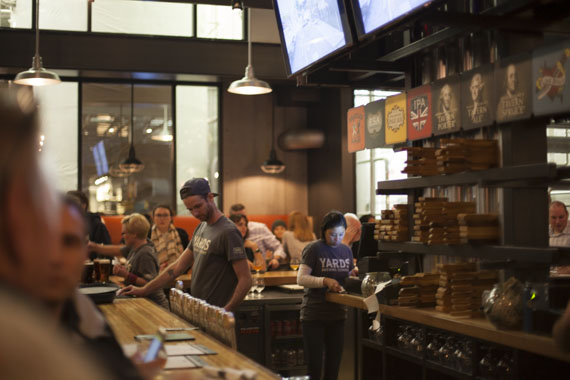 Due to the cold weather, I was in the mood for a stout. The Russian Imperial Stout caught my eye because it was on their seasonal beer list and those beers are only available in the Yards Taproom. At 10.6%, the Russian Imperial Stout was indeed the strong beer that I was hoping for. Dark and rich, this stout was full bodied and packed many complex flavors, most notably roasted malt. I later asked my server what the difference is between their Russian Imperial Stout and their signature Love Stout. He explained to me that in the 1700's Russian stouts were shipped from England and had higher alcohol content to help them stay preserved during the long trip. Therefore, they're typically bolder and heavier than the creamy Irish-style Love Stout.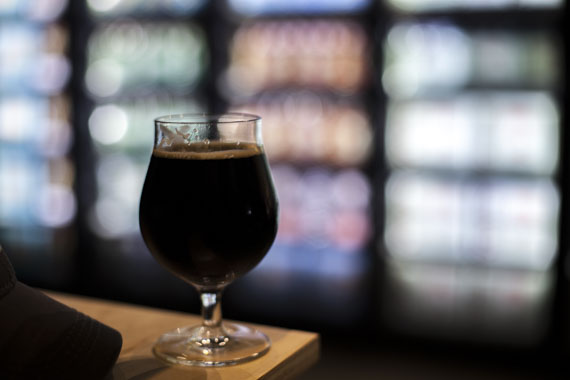 Stout in tow, I walked around and browsed their merchandise while I continued to wait for a table. They have a great selection of Yards clothing including hats, crewnecks, zip-up hoodies and t-shirts. Additionally, they have a selection of six-packs and cases of beer for take-out. As soon as I had a chance to see all their goods for sale, a table was ready for me. I put in an order for a roast pork sandwich with my server Steven. This classic Philadelphia sandwich rivals any other roast pork sandwich in the city. It came on a seeded roll with provolone cheese and roasted long hots. What really made this sandwich pop was the fermented broccoli rabe. The sour, tangy flavor from the fermentation cut through the broccoli rabe's natural bitterness, and it made all the difference in the world.
Yards' new facility is off to a great start. With Philadelphians already being fans of their craft beer, all Yards needed was equally great food and the right venue to bring it all together. That is exactly what happened. The new brewpub at 500 Spring Garden will be a go-to hangout for years to come.
During opening weekend their hours are as follows: Friday 11/17 from 5 to 11pm, Saturday 11/18 from 11:30am to 11pm, and Sunday 11/19 from 11:30am to 10pm. After this weekend, normal hours will be Sunday 11am to 10pm, Monday through Wednesday 11:30am to 10pm, Thursday and Friday 11:30am to 11pm and Saturday 11am to 11pm.
Back to Blog