"Suddenly, everyone's calling me The Pickle Guy," says Ryan Harrison. "And everyone who knows my mom? They call her The Pickle Lady."
Nicknames that stick are often the result of some sort of memorable childhood happenstance, but the title Harrison shares with his mother Gina is a more recent development. The vinegary monikers are being tossed around local markets, restaurant kitchens and right here at COOK for one simple reason: The Harrisons make their own dill pickles, and they're damn good at it.
Natives of Moorestown, N.J., the Harrisons have always been a culinary family — Gina has been tending ambitious home gardens for decades, while Ryan is a 2010 CIA grad who's logged experience under chefs like John Besh and Michael Mina. But they never worked together in an official capacity until earlier this year, when Gina secured a sixth-of-an-acre plot in nearby Cinnaminson to launch Jersey Gina's Gems, a vertically integrated operation looking to hook fervent fans of food in jars.
"She's been making them for 25-plus years, very casually, giving them to people every summer," says Ryan of Gina's pickles, a handed-down recipe that originates with his godmother, Sandi Mixit. They've long been a popular commodity among friends of the Harrisons, but Ryan began realizing just how wide the appeal could be after taking a job running the kitchen at The Wishing Well in Bella Vista. He worked the pickles onto the menu, both as a side and a battered-and-fried app, and the reaction was immediate — table after table started demanding special requests for pickles on the side, leading to the small bar running through close to 20 gallons a week. Ryan and Gina experimented with a retail table at the recent Italian Market Festival, where they cultivated even more followers. "She was like, 'Oh my god, people really do like my pickles!'" says Ryan of Gina's reaction to the sudden public embrace of her specialty.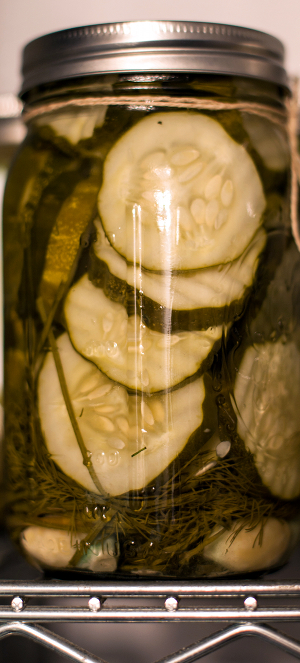 So what makes these things so next-level? Purified water and quality ingredients, to start: The Jersey Gina's Gems plot grows between 30 and 40 different varieties of organic vegetables, from heirloom tomatoes and chili peppers to the cucumbers and herbs required for the pickles. Balance, in addition to super-freshness, is a huge hallmark of the product. "You don't get too much garlic, too much dill, too much sweetness or too much salt," says Ryan. "You just keep eating them." It's apparently a very simple recipe, originating with Mixit's Polish babcia (grandmother); Ryan, surprisingly, is not in the know — and prefers it that way. "[My mother has] offered to share the recipe with me, but it's better if she just keeps it hers for now," he says.
While none of us are likely to crack that briny circle of trust anytime soon, we're all able to snag momma's dill pickles for ourselves — they're available for $10 a jar at COOK. Other hand-crafted hot-weather harvest Gems — think blueberry butter, sweet pickles and peach preserves — are on the way. The micro-farm will also soon launch an outdoor dinner series, staging a table right in the middle of its stalks and trellises to accommodate eaters for meals based around products straight from the soil beneath their shoes. Looks like The Pickle Guy and The Pickle Lady are about to have their hands full of more than just cukes.
Photos: Yoni Nimrod
Back to Blog